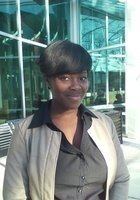 Anna
Certified Tutor
I am a recent graduate of Georgia Southern University. I received my Masters of Science in Mathematics with a concentration in Computational Science. I also received my Bachelor of Science in Mathematics from Georgia Southern. For the past two and a half years, I worked as a Mathematics Teaching Assistant at my university. Each semester, I worked in the math lab where I tutored students of all ages and tutored many math subjects (College Algebra, Geometry, Calculus 1, Calculus 2, Calculus 3, Linear Algebra, Survey of Calculus, MATLAB coding). Apart from holding office hours for students, I also held independent teaching/review sessions for 2-4 Calculus 1 and 2 courses. My favorite subjects to tutor are algebra and calculus. These courses are the building blocks that will help students understand more complex concepts and to think critically. Algebra and Calculus are where we first begin to see how math can help us in solving real life problems, such as calculating a car's speed or the percentage of error of a given measurement.

Personality is an important part of teaching. I can't tell you how many classes that I had to "suffer" through because the teacher didn't show any excitement about what he or she was teaching. When I teach, I speak clearly and dynamically. I communicate the enjoyment in what I'm doing through smiles and laughter. I do not pretend to be the "perfect mathematician", but I am extremely knowledgable. Additionally, I take the time to discern what each student knows, as well as how they think. This helps me to not only show each student that I care about his or her success, but it also helps me to figure out what is the best approach in teaching a specific method to the student.

My free time consists of me spending time with family, playing some type of game, managing my fitness group or eating! I also enjoy helping out at my church. As much as I love math, being involved in these activities is essential to my sanity! I like to live a well balanced life!
Hobbies
playing games with family, managing my fitness group, eating, piano, keyboard, and singing