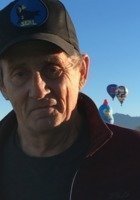 Dr. Frank
Certified Tutor
I was educated at Kirksville College of Osteopathic Medicine, University of Colorado, Community College of Denver, and Metro State College (in Denver, CO). I have a number of post-graduate credits in both Computer Science and Medicine. My degrees are in Osteopathic medicine, biochemistry and journalism. I have been involved with digital technology since its infancy and have had the opportunity to combine medicine and computer science.
I have been the CEO of several corporations during my career and Chairman of the Department of Computer Science at FMU. I lived and worked in Germany for 7 years, and Im comfortable in German. I love teaching and enjoy the challenge of helping others to learn. I enjoy tutoring the biological sciences, chemistry, biochemistry, medicine, nursing, anatomy, physiology, pathology, systems analysis, computer programming, computer graphics, 3D graphics, animation and other related topics.My diversity of interests is the result of invention and the need to know which allows it to occur.
I have worked with many of the pioneers of the digital revolution and in addition to teaching, my non-academic interests are eclectic; 3D animation, auto racing (formula, drag & NASCAR), sailing & cruising, rockets, robotics, recording, photography, medical imagery and drones. Im interested in them all and much, much more. If you're interested in doing more than memorizing, I am the instructor you want and need.
Education & Certification
Undergraduate Degree: Metropolitan State University of Denver - Bachelor of Science, Biochemistry
Graduate Degree: Kirksville College of Osteopathic Medicine - Non Degree Doctorals, Osteopathic Medicine
Hobbies
Sailing, auto racing, computer animation, imaging
Tutoring Subjects
Anatomy & Physiology
Animation
Art
C
C++
College Chemistry
College Computer Science
College English
College Physics
Comparative Literature
Computer Programming
Conversational German
MCAT Critical Analysis and Reasoning Skills
German 2
German 3
German 4
Graphic Design
High School Chemistry
High School Computer Science
High School English
High School Physics
Life Sciences
MCAT Biological and Biochemical Foundations of Living Systems
MCAT Chemical and Physical Foundations of Biological Systems
MCAT Psychological, Social, and Biological Foundations of Behavior
Programming Languages
Programming Tools
Ruby
Technology and Coding
Visual Arts
Visual Basic
What is your teaching philosophy?
I believe that everyone learns in a slightly different manner. Find the best method and build with it.
What might you do in a typical first session with a student?
Identify the student's needs and goals, design a strategy for helping the student achieve them.
How can you help a student become an independent learner?
Helping a student to learn their own strengths and weaknesses, teaching them how to use each of them to learn with.
How would you help a student stay motivated?
Help them to see the "finish line." See the personal gain that comes from finishing.
If a student has difficulty learning a skill or concept, what would you do?
Find out why they are having a problem and help them to find a way to overcome it.
How do you help students who are struggling with reading comprehension?
Teaching them how to read critically, and how to express themselves so that they, too can be read critically.
What strategies have you found to be most successful when you start to work with a student?
Start with the basics. Don't ever assume that the student already knows how to do it.
How would you help a student get excited/engaged with a subject that they are struggling in?
By helping them to actually learn the subject. It's easy to get excited if you can see the reason.
What techniques would you use to be sure that a student understands the material?
Verbal, visual and interactive evaluations.
How do you build a student's confidence in a subject?
Help them to succeed.
How do you evaluate a student's needs?
They usually tell me what they want to accomplish. I identify a method by which we can work together to achieve their goals.
How do you adapt your tutoring to the student's needs?
I design my "courses" to each individual student. The online platform makes this fairly easy.
What types of materials do you typically use during a tutoring session?
My materials are usually tailored specifically to the student's needs and methods, but occasionally I have supplemented them with commercially available programs.