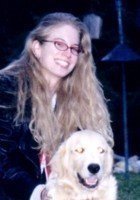 Adriane
Certified Tutor
I recently finished my PhD in English at the University of California, where I taught undergraduate seminars English and American literature, academic writing, and American history. Before that, I completed my MA in library science at the University of Arizona, where I studied data management and information services. Most of my formal training is oriented toward university-level teaching and research, but my past work as a gymnastics coach has also given me a lot of practical experience working with young children. Even now, kids in elementary grades remain some of my very favorite students--I really enjoy writing joke books and short stories with them, as well as playing math games like Multiplication War and Fraction Dominos. Students with disabilities are particularly important to me, and I try to stay up to date on the best practices for working with them because I've seen firsthand the ways in which minor accommodations can engender significant improvements in learning outcomes. Regardless of my students' ages and abilities, I enjoy helping all of them develop productive study habits and work practices that complement their personal needs and learning styles.
Hobbies
Learning Spanish, brushing up on my German, and maxing out my borrowing limit at the Atlanta-Fulton Public Library.
Tutoring Subjects
10th Grade Reading
10th Grade Writing
11th Grade Reading
11th Grade Writing
12th Grade Reading
12th Grade Writing
6th Grade Reading
6th Grade Writing
7th Grade Reading
7th Grade Writing
8th Grade Reading
8th Grade Writing
9th Grade Reading
9th Grade Writing
Adult Literacy
AP English Language and Composition
AP English Literature and Composition
College English
Comparative Literature
Elementary School Reading
Elementary School Writing
High School English
High School Writing
Middle School Reading
Middle School Writing
What is your teaching philosophy?
One exercise that I like to do with all new students is a short writing project: I ask students to write about one personal attribute that they are proud of (smart, hardworking, etc.). The project helps students think of themselves in a positive way before we start working together, and it helps me get a sense of their writing and reasoning abilities.
How can you help a student become an independent learner?
I work with every student on developing effective learning habits by frequently revisiting the processes through which learning occurs. I incorporate art and games into materials for my younger students, to make learning fun. I help my older students take ownership of their academic goals by encouraging the daily habits necessary to achieve them.
How would you help a student stay motivated?
A recent Stanford study reveals that students who practice self-affirmation are half likely to fail as students who do not. I use positive feedback to encourage my students, but I also encourage my students to encourage themselves by recognizing their own achievements and abilities.
If a student has difficulty learning a skill or concept, what would you do?
Students learn best through repetition, but it often helps to repeat lessons, ideas, and information in new ways. Some students are visual learners; others are conversational, literary, and tactical learners. Varying the approaches most useful to each of these learning styles helps all of my students learn in new ways, and encourages repetition without inducing boredom.
What might you do in a typical first session with a student?
I often start with a writing activity. I ask my student to pick at least one word from a list of "personal qualities" adjectives. The student writes as much as she/he needs in order to explain why that quality describes her/him as a person, and why that quality is important/valuable. This activity helps me get to know the students, but it also gives me a sample of their writing that helps me understand their spelling, vocabulary, and ability to connect written ideas to one another.
How do you help students who are struggling with reading comprehension?
Depending on the student, I have an arsenal of exercises we can do together to improve reading comprehension. For primary-level students, I like to close readings of Shel Silverstein's "Where the Sidewalk Ends." The short poetry helps minimize frustration because it's easy to complete; at the same time, Silverstein likes to make up a lot of words, and his poems therefore require attention to context in order to understand what they mean. For secondary-level students, I like to work on bullet point précis and reverse-outlining. This breaks essays down into short pieces of information, and helps students better understand how these pieces connect and build upon each other in support of a thesis.