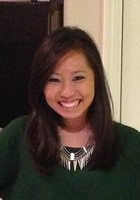 Eugene
Certified Tutor
I am a tutor because of all of the great tutors that influenced me throughout my academic career. I was always a good student, but I believe that the tutors that have been in my life helped me to become an outstanding student and tutor. With their help, I was able to finish high school at the top of my class and go on to receive my Bachelor of Arts in English from Emory University. I am currently studying at Morehouse School of Medicine located in Atlanta, GA.

My tutoring experience began in high school where I tutored students and my peers in all subjects ranging from phonics to calculus. Throughout college, I continued to tutor students from elementary school all the way up to those in college. After graduating college, I worked with a professional tutoring company for two years where I learned a variety of different tutoring techniques to apply to different learning styles. I have experience tutoring a variety of different subjects such as biology, chemistry, English (both language and literature), and multiple levels of math (pre-algebra, algebra, geometry, trigonometry, pre-calculus, and calculus). My ultimate goal as a tutor is to have students truly understand a concept and then to move ahead.
I have embraced the idea that learning is a different experience for everyone. For some, it takes no time at all, while for others it is an extremely difficult task. All in all learning takes effort. With this idea in mind, my tutoring methods are extremely flexible to meet the need of every student that I come into contact with. At the end of the day, the student should feel a sense of understanding that they did not have before. I strongly believe that learning should be a fun experience so that what you learn sticks with you.

Aside from being a tutor, I am a huge sports fanatic, especially football (both college and professional)—Go DAWGS & Go FALCONS! I also have a passion for cars. I am an amateur figure skater and love to read & shop during my free time. The thing that I value the most is my family. I believe in going after your dreams and doing all that you can to achieve your goals; and I truly believe that education is one of the most valuable tools you can have.

Test Scores
SAT Math: 700
SAT Writing: 720
Hobbies
Interests: football, cars, literature, and fashion. Hobbies: Figure skating, reading, sleeping, and eating!
Tutoring Subjects
Anatomy & Physiology
College Biology
College Chemistry
College English
Comparative Literature
High School Biology
High School Chemistry
High School English
Other
Summer