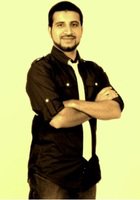 Ali
Certified Tutor
I'm an honors graduate from University of Houston-Downtown with my B.S. in Applied Mathematics and my minors of Biology, Chemistry and Microbiology.

I started tutoring Calculus at my high school in 2005. Ever since that experience, tutoring developed into a passion of mine and I continued tutoring Math along with Chemistry and Physics throughout my undergraduate years. I firmly believe that every student deserves the absolute best instruction possible, and unfortunately this is not always possible in the classroom. I have also had a great deal of experience working on SAT test prep. Although I specialize on the Math section (perfect scores on Math II and Physics subject tests), I can provide test strategies on all sections of the ACT and SAT.

I've had experience working with third graders all the way through continuing education students in their fifties and sixties! Part of my success includes being able to connect with the students, regardless of their age or academic level.

My job as a tutor is first and foremost instilling confidence in my student, followed by reinforcing effective study skills and topping it off lastly with mastering of the content. I have received training in the Peer-led Team Learning Scheme and am familiar with other methodologies, as well.

I look forward to working with you!

On a side note, I'm a sport fanatic -- Football, basketball, soccer, volleyball, you name it! When I'm not gardening, tutoring or reading, I may very well be watching a sports match.
Test Scores
ACT Composite: 33
ACT English: 34
ACT Math: 34
ACT Reading: 30
ACT Science: 35
SAT Math: 790
SAT Mathematics Level 2: 800
SAT Physics: 800
Hobbies
Gardening, Habitat Restoration, Soccer
Tutoring Subjects
College Chemistry
College English
College Physics
High School Chemistry
High School English
High School Physics