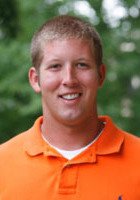 Robert
Certified Tutor
After three years and 1500 hours of experience as a College Reading and Language Association Level 3 Master Tutor for the University of West Georgia, and several hundred hours of tutoring k-12 students, I have had the time to develop and hone my teaching methods and techniques to best suit every individual I tutor. A tutoring appointment with me is much more than simply a review of the material you or your child learned in class. I take an all encompassing approach in order to foster as much academic success for those I tutor as possible. As the Athletic Tutoring Coordinator for the University of West Georgia, it was my job to make sure that student-athletes understood every learning style, study skill, time management technique, note taking strategy, and every other skill necessary in order to efficiently process data and information in the best way possible to improve their academic performance.

I believe that the basis of academic performance is a strong understanding of yourself as an individual. Understanding your personal learning style and emphasizing the techniques you should use will improve test scores. Many people do not realize that changing something as simple as their note taking technique can allow for more understanding of the material as it is presented by the teacher or professor, and understanding this material as it is presented makes it easier to learn and review. The all-encompassing approach I utilize during a tutoring session maximizes time-management techniques, study skills, note taking, and many other useful skills you should understand when learning new information presented by an instructor whether they use books, Power Point slide shows, essays, or any other medium teachers and professors use to pass along their lessons to students.
The reason I began tutoring as a Sophomore at UWG was because I really enjoy the look on somebody's face when they grasp a concept they once thought would be impossible to comprehend. I give 100% effort in any tutoring session I lead, and always track what is working for you or your child and what issues need to be addressed.
Education & Certification
Undergraduate Degree: University of West Georgia - Bachelor of Science, Political Science and Government
Test Scores
ACT Composite: 32
ACT English: 33
ACT Reading: 34
ACT Science: 33
Hobbies
Watersports and Hunting
Tutoring Subjects
College Chemistry
College English
College Level American History
College World History
Comparative Literature
High School Chemistry
High School English
High School Level American History
High School World History