Mihir: Tokyo Biochemistry tutor
Certified Biochemistry Tutor in Tokyo
...develop an individualized plan that challenges them and helps them succeed. To this end, I do not follow a specific formula during sessions with my students. Instead, I work with my students to build a plan that meets their goals and helps them achieve success. I look forward to helping you succeed in your studies!
Kevin: Tokyo Biochemistry tutor
Certified Biochemistry Tutor in Tokyo
...sports, I have spent my entire life learning either the piano, guitar, or ukulele. I traveled to Italy and spent two weeks there to sing for the Pope. I recently completed a ten day medical mission in Vietnam, providing primary health care and aiding the surgery team for ten or more hours each day.... I was a very visual learner, so I specialize in explaining concepts through drawing things on the board. I also believe the...
Fatimah: Tokyo Biochemistry tutor
Certified Biochemistry Tutor in Tokyo
...high school I tutored students for regents and AP exams. I was an AP scholar with distinction, and received the NYS Board of Regents Scholarship for Academic Excellence. I also worked for a local test prep company, where I tutored the ACT, SAT, AP and regents subjects. I scored in the 95th percentile on my...
Shayan: Tokyo Biochemistry tutor
Certified Biochemistry Tutor in Tokyo
...background in the sciences. I can also rock the SATs and MCAT, so I've got that going for me. I love learning with students and trying to make the tedious work of learning as fun as possible. I think and teach in examples and make abstract concepts easily understandable. I also love sports, adventures, travelling!
Quinn: Tokyo Biochemistry tutor
Certified Biochemistry Tutor in Tokyo
...am highly curious about everything. I always want to try new things, and I am driven by a visceral love of adventure. Despite these innate qualities, I am also very driven to help other people, and tutoring is a simple, yet powerful and effective way I can help others. I have done a lot of...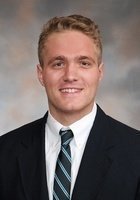 Max: Tokyo Biochemistry tutor
Certified Biochemistry Tutor in Tokyo
...new MCAT and believe that I can teach my tools for success to any pre-student willing to learn them. I have been a teaching assistant for both General Chemistry I and II for two semesters each and have taught CPR, AED, First Aid to Salt Lake City Citizens. I have always enjoyed teaching, specifically being...
Jaya: Tokyo Biochemistry tutor
Certified Biochemistry Tutor in Tokyo
...the National Honors Society which was my first experience with tutoring. I am currently a volunteer at the University of Minnesota Masonic Children's Hospital, and I help patients and siblings with homework and reading there, as well. I am passionate about the life sciences and the French language, and I love helping others foster a...
Marc: Tokyo Biochemistry tutor
Certified Biochemistry Tutor in Tokyo
...general chemistry, and physics cheat sheets that I prepared while studying for the MCAT during our first session. For all standardized test students, I can discuss prep books I recommend prior to our first meeting. I am passionate about learning and hope to engage all students in the subject matter. Outside of tutoring, I am...
Brian: Tokyo Biochemistry tutor
Certified Biochemistry Tutor in Tokyo
...enjoy physics and humanities courses as well. My teaching experience includes teaching and tutoring summer school math (and doing some test prep work) to high school students in Rochester, MN. I also have given saxophone lessons. I love teaching, and I believe strongly in active, problem based learning. For science courses, I have considerable experience...
Private Online Biochemistry Tutoring in Tokyo
Receive personally tailored Biochemistry lessons from exceptional tutors in a one-on-one setting. We help you connect with online tutoring that offers flexible scheduling.
If you need to find quality biochemistry tutoring in Tokyo, Varsity Tutors can help you find an instructor who can assist you in your educational journey. Joining forces with a private tutor can be a smart move for all students since these instructors can easily adapt to your needs in a one-on-one environment.
With targeted and personalized instruction, it can be easier to understand potentially confusing concepts like gel electrophoresis, the properties of enzymes, and amino acids. Because each instructor must successfully navigate an in-depth vetting and interview process, you can be sure you'll be learning alongside a fully qualified tutor.
A tutor can be qualified to teach at the highest level, so advanced students can get all the help they need as they tackle the most challenging concepts at an institution like the University of Tokyo. On the other hand, a private mentor can be just as helpful for beginner students who need to establish a firm understanding of core biochemistry concepts so they can build on their knowledge effectively in the future. Regardless of your ability level or learning challenges, you can have your needs catered to during biochemistry tutoring in Tokyo.
While you often don't have enough opportunities to ask important questions in a typical classroom setting, your Japan biochemistry tutor can clarify any potential points of confusion. They can also explain concepts in new ways that can be easier to understand.
A Tokyo biochemistry tutor can take your learning style into account when helping you study water and equilibrium. This can make learning more efficient, as you can process information in more effective ways based on your preferences. If you prefer to take a hands-on approach to learning, you can complete interactive exercises to learn about intermolecular forces.
If you prefer aural techniques like discussions, your Japan biochemistry tutor can adjust your sessions accordingly as you cover the ionization of water. Visual learners can also study through flashcards and similar methods when covering the thermal properties of water.
It often helps when you're able to slow down and fully absorb information on peptides, but this isn't always possible in fast-paced classroom settings with other students. A Tokyo biochemistry tutoring can allow you to set the pace of your learning, even if you're an advanced student who wants to learn about carbohydrate metabolism at an accelerated pace.
A biochemistry tutor in Tokyo can do more than simply help you cover various biochemistry concepts. They can also equip you with a number of general academic strategies, such as organizational methods and time management techniques, and these skills can help you reach for your full potential in a more structured manner.
Your Japan biochemistry tutor can also learn about your strengths and weaknesses, and this can help you prioritize areas you need more help with, such as ion-exchange chromatography, over topics you're confident about. You can also let your tutor know about your educational goals, and you can focus more on areas you wish to specialize in, like biotechnology, during Tokyo biochemistry tutoring. If this is the case, a tutor can shift the attention towards gel filtration chromatography.
With our Live Learning Platform, you can study alongside a biochemistry tutor in Tokyo in a fully online environment with the interactivity of real-time video chat. A virtual whiteboard makes a range of visual teaching methods possible. Another benefit of this platform is the fact that it records all of your sessions and automatically saves them. This means that you can relive past moments of your biochemistry tutoring in Tokyo to refresh your memory of key concepts.
Reach out to Varsity Tutors today, and we can help you find a Tokyo biochemistry tutor who can help you learn in a personalized, targeted environment that caters to your unique needs.
Your Personalized Tutoring Program and Instructor
Identify Needs
Our knowledgeable directors help you choose your tutor with your learning profile and personality in mind.
Customize Learning
Your tutor can customize your lessons and present concepts in engaging easy-to-understand-ways.
Increased Results
You can learn more efficiently and effectively because the teaching style is tailored to you.
Online Convenience
With the flexibility of online tutoring, your tutor can be arranged to meet at a time that suits you.
Top International Cities for Biochemistry Tutoring