Ryan: Johannesburg French tutor
Certified French Tutor in Johannesburg
...a love of teaching. In a relatively short period of time, I was able to bring several students from a beginning to an advanced level of drumming. I have since pursued education in international affairs and the social sciences. I completed my undergraduate degree in social science at Sciences Po Paris, France's premier institute for...
Ruthie: Johannesburg French tutor
Certified French Tutor in Johannesburg
...the ninth grade grew 2.18 points as a whole on the ACT science section. I therefore am an incredibly flexible teacher, who can adapt lessons to a range of ability levels and content areas, which contributes to the success my students have achieved on their state tests, ACT, and AP Biology exam. It is important...
Kate: Johannesburg French tutor
Certified French Tutor in Johannesburg
...I've been tutoring students in science and math for 7 years. I also spent 8 months working and studying in France, and have tutored high school and adult students in French. When I'm not working or studying, I love playing volleyball (indoors or on the beach!) and spending time outside, canoeing or hiking with my...
Anastasia: Johannesburg French tutor
Certified French Tutor in Johannesburg
...them with me! My physics background, as well as my years of teaching, means I know a disturbing amount of math (through advanced calculus). Yet, I've also been reading since I was old enough to hold a flashlight (my eyes don't thank me), so if you need help with following any sort of literature, I've...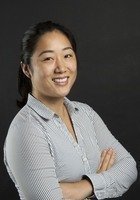 Asta: Johannesburg French tutor
Certified French Tutor in Johannesburg
...college goals. I also love working with students on their college essays because that's when I feel I get to know my students the best, as we talk through dreams, aspirations, and life experiences. I view education as a skill; education is not around to help us learn specific things, but rather education teaches us...
Kaleel: Johannesburg French tutor
Certified French Tutor in Johannesburg
...Examiner in New York City. I am passionate about tutoring the ACT, high school math, biology, and English. My greatest ACT tutoring success story was increasing a student's overall score from a 23 to a 28 in a matter of 8 weeks during the summer of 2015. Ideally, I would like to tutor students preparing...
Madeline: Johannesburg French tutor
Certified French Tutor in Johannesburg
...at my local library, a volunteer and mentor at three after-school programs, a peer tutor for college French classes, an ESL tutor for both middle school students and adults, and a student teacher in two high school French classrooms. My goal is for clients to get to know themselves better as learners, to develop study...
Ben: Johannesburg French tutor
Certified French Tutor in Johannesburg
...reader and an articulate writer and I'm excited to help you develop in these areas. I am also a fluent French speaker; I worked as a tutor for beginning classes in the Dartmouth French department, and spent the past year in France teaching English to middle and high school students. I look forward to helping...
Max: Johannesburg French tutor
Certified French Tutor in Johannesburg
...I plan to return to school in the next few years to obtain a graduate degree in Clinical Psychology. While in college, I volunteered with the West Philadelphia Tutoring Project, an organization that brings Penn students into Philly's inner city to tutor low-income middle school students. I found the experience deeply rewarding and my time...
Private Online French Tutoring in Johannesburg
Receive personally tailored French lessons from exceptional tutors in a one-on-one setting. We help you connect with online tutoring that offers flexible scheduling.
Varsity Tutors can help you connect with a Johannesburg French tutor. Online tutoring has become a popular and convenient way to learn a new language. You can study from any location and complete lessons according to your scheduling needs. With more than 220 million people in the world who speak French, learning the language can enhance your experience of the world while helping you connect with a large part of the population at home and abroad.
French tutoring in Johannesburg gives you an opportunity to learn the sixth most commonly spoken language. Like English, the French language can be found on five of the world's seven continents. If you want to study or work abroad, you can benefit from working with a Johannesburg French tutor to learn the fundamentals of grammar, vocabulary, and pronunciation. It can also be a valuable resource for travelers looking to explore French-speaking parts of the world. The French language originated in Latin. Learning French may help you move on to learning other descendants of Latin, such as Spanish, Portuguese, Italian, and Romanian.
High school and university students looking to learn French can take advantage of the knowledge and experience of a Johannesburg French tutor. Whether you're attending Jules High School, Johannesburg Secondary School, the University of Witwatersrand, or any other local academic institution, French tutoring in Johannesburg can be an additional learning resource that supports your in-class studies. It can also help you sharpen your learning skills during the summer months while on break from your regular coursework. Online learning makes it easy for you to create a customized study plan that aligns with your learning style and needs. Visual aids, flash cards, and other learning tools can be used to reinforce your lessons and help you retain new information. Working with a Johannesburg French tutor helps you identify any gaps in your existing knowledge of French. You can invest more time addressing new and unfamiliar concepts without getting bogged down on those you've already learned. This approach can make your learning more efficient so you can achieve better results when compared to traditional language studies.
Your Johannesburg French tutor can focus on your strengths and areas of interest. This allows your lessons to address those areas and support your long-term goals. You can gain a higher level of confidence and self-esteem from mastering a new language. You may feel empowered to explore other parts of the world and interact with different cultures. Tutoring can also improve your attitudes towards learning. By setting progressive and achievable goals, you can develop new habits that can be applied to future learning opportunities.
Your tutor can help you learn the fundamentals of the French language, including the use of gendered nouns, accent marks, and common phrases. Language rules can be difficult to master. Working with a Johannesburg French tutor gives you the opportunity to ask questions and get the feedback needed to understand challenging concepts. Your pronunciation can be evaluated and improved with the help of your instructor. Understanding French vocabulary and the use of adjectives may help you speak more confidently and avoid common mistakes.
French tutoring in Johannesburg is an ideal option for students and non-students who want to learn the French language. It can support your academic and professional goals or simply give you the pleasure of learning a new language you can use in your personal life. The online learning process eliminates the need to travel to a physical classroom, making it a convenient solution for learning a new language. You have direct access to an experienced instructor who can offer their insights and help develop a customized learning plan. If you'd like to get started with a French tutor in Johannesburg, contact Varsity Tutors today.
Your Personalized Tutoring Program and Instructor
Identify Needs
Our knowledgeable directors help you choose your tutor with your learning profile and personality in mind.
Customize Learning
Your tutor can customize your lessons and present concepts in engaging easy-to-understand-ways.
Increased Results
You can learn more efficiently and effectively because the teaching style is tailored to you.
Online Convenience
With the flexibility of online tutoring, your tutor can be arranged to meet at a time that suits you.
Top International Cities for French Tutoring