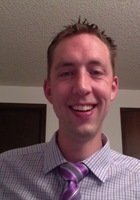 Michael
Certified Tutor
I am a middle school French teacher in Parker but have taught either Language Arts or ESL for the past seven years. I have a lot of experience working with students of various backgrounds and have had a proven record of success with my classes. I have worked one on one before with students, helping both their grades and skills greatly improve.

I'm looking forward to meeting and working with you!
Hobbies
Rock Climbing, Reading, Running, Video Games
Tutoring Subjects
10th Grade Reading
10th Grade Writing
11th Grade Reading
11th Grade Writing
12th Grade Reading
12th Grade Writing
6th Grade Reading
6th Grade Writing
7th Grade Reading
7th Grade Writing
8th Grade Reading
8th Grade Writing
9th Grade Reading
9th Grade Writing
Adult Literacy
AP French
AP French Language and Culture
College English
Comparative Literature
Conversational French
Elementary School Reading
Elementary School Writing
Expository Writing
Fiction Writing
French 1
High School English
High School Writing
Middle School Reading
Middle School Writing
Other
Persuasive Writing
What might you do in a typical first session with a student?
I would spend time getting to know who the student is and what they are looking for, and I'd develop a plan to achieve their learning goals.
If a student has difficulty learning a skill or concept, what would you do?
I try different approaches. I often check to make sure that my students understand concepts, and when there is a struggle, I have no problem taking time to find a different approach or exercise that might help.