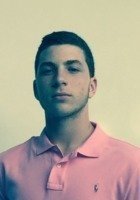 Daniel: Jerusalem Python tutor
Certified Python Tutor in Jerusalem
...a topic until he/she can effectively explain it back to me as if I am a student wanting to learn said topic. Throughout my experience tutoring and receiving tutoring, I have found that this is a very powerful way of assessing mastery of a concept. Extracurricularly, I love playing piano, drums, and producing/composing all sorts...
Travis: Jerusalem Python tutor
Certified Python Tutor in Jerusalem
...in Computational Linguistics, a Bachelor of Science in Electrical and Computer Engineering, and a Bachelor of Arts in Linguistics. I tutor a wide variety of subjects, including computer science, mathematics, and Spanish. If you need help, let's work it out together! I can also provide tutoring services through American Sign Language (instead of English), if...
Scot: Jerusalem Python tutor
Certified Python Tutor in Jerusalem
...am passionate about learning and teaching and believe the pursuit of knowledge is what makes our species so great. I hope to help my students achieve their goals by offering a fresh perspective, simple explanations, and fun whenever possible. My strongest subjects are in Mathematics and the GMAT. Currently, I am wrapping up interviews for...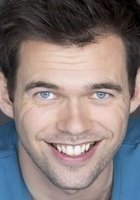 Matthew: Jerusalem Python tutor
Certified Python Tutor in Jerusalem
...and Stem Cell Science. Technical though my background may be, I am currently gigging as a singer/songwriter/composer in NYC and tackle even the most hard-science of problems with a top-down, big-picture, holistic approach. If you have a propensity to look at problems in a cross- or inter-disciplinary manner (or want to learn how to do...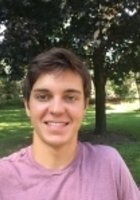 Thomas: Jerusalem Python tutor
Certified Python Tutor in Jerusalem
...a data science intern for a start-up called Polco where I am learning software and analytical skills. I love snowboarding, mountain biking, playing music, and hiking so am thrilled to be living in Denver. Intellectually, I am interested in math, physics, and computer science. I think that one of the best ways to learn is...
Fredric: Jerusalem Python tutor
Certified Python Tutor in Jerusalem
...a degree in mathematics and education. I earned my masters from University of New England in Educational Leadership. I have taught in both traditional and non-traditional school settings. I have taught everything from sixth grade math through Calculus. I have tutored students from kindergarten through college. During my free time, I enjoy spending time outside,...
Crawford: Jerusalem Python tutor
Certified Python Tutor in Jerusalem
...IDEO. While typically used in startups to develop new innovations, I've found it extremely handy in tutoring. Every student is different and so are their difficulties, so a finite set of ways to present a concept or tackle a difficulty is potentially limiting. In my experience, it's much more effective to use an adaptive framework...
Nana: Jerusalem Python tutor
Certified Python Tutor in Jerusalem
...they take on. For example, when I work with a student on a problem I will not only help them understand and solve the problem at hand but I will teach them the techniques and strategies to solve similar problems, strategies such as problem deconstruction and examination. Truly, I want my students not only to...
Nicholas: Jerusalem Python tutor
Certified Python Tutor in Jerusalem
...am currently pursuing an education in a very STEM-oriented field, my personal conceptual understanding of various concepts is constantly being expanded and built upon. As a result, I have a lot of experience to draw upon when explaining mathematical, scientific, and technological concepts. For example, one project I've worked on recently involves the construction, wiring,...
Private Online Python Tutoring in Jerusalem
Receive personally tailored Python lessons from exceptional tutors in a one-on-one setting. We help you connect with online tutoring that offers flexible scheduling.
Varsity Tutors can connect you with a Python tutor in Jerusalem who can offer a personalized learning plan that can cater to your unique needs. During one-on-one Jerusalem Python tutoring lessons, an instructor can work with you in a private setting that can help you focus on the topics you need to learn most. Israel Python tutors can customize lessons that cover basic topics like keywords, namespaces, and compiling code as well as advanced subjects that can help you build a strong foundation in Python.
If you're taking a programming course at the Hebrew University of Jerusalem or another academic institution, your tutor can supplement your in-class instruction and give you more time to learn how to evaluate expressions with "place", "identity", and other operators. Python tutoring in Jerusalem can be a valuable resource for helping you work toward your learning goals, and your instructor can encourage you to ask questions as you move through your lessons.
In a classroom setting, it can be difficult for professors to offer the kind of personalized help you need to boost your Python knowledge and skills. They typically follow a set curriculum that can make it harder for them to use different teaching methods or adjust the pacing of your learning. Your Jerusalem Python tutor can use a wide range of strategies and tools to help you learn how to work on projects in IDEs like Sublime Text, Vim, and PyCharm.
Israel Python tutors can help you learn at a pace that's best for you by spending more time on complex or unfamiliar topics like refactoring, code review, and unit testing while helping you move quickly through basic concepts you've already learned. The flexibility of Jerusalem Python tutoring sessions can improve the efficiency of your learning experience and help you stay motivated as you learn.
A Jerusalem Python tutor can get to know you and determine when you're ready to move on to more challenging concepts. They can identify your unique learning style so that visual and hands-on learners can get the help they need to learn how to use "while" and "for in" loops to perform data set operations. If you're a visual learner, your tutor can use infographics, charts, and other visual aids to make concepts like linear search, binary search, and algorithm design with UML easier to understand. If you're more of a hands-on learner, pair programming with your instructor can help you get in-the-moment feedback. Your tutor can help you learn how to use sorting algorithms like merge sort and bubble sort so that you can perform these and other actions when writing code on your own.
Having the support of a skilled tutor can give you a more positive attitude toward learning Python and other subjects. Coding with your tutor in real time can help you identify and avoid common errors and inefficiencies, which can enhance your ability to leverage arrays, linked, lists, and other data structures in Python.
Tutors can help you improve your troubleshooting skills when your program isn't operating correctly. You can develop strategies for organizing your code so you can easily go back and make changes to add new functions or accommodate API changes.
Our Live Learning Platform lets you complete your lessons from any location that offers an internet connection, such as your home or a local library. The platform's live video chat feature allows you to interact with your instructor and work through your sessions without having to commute to a classroom. The Live Learning Platform includes a shared code editor that can make it easier for you to take notes while your tutor demonstrates how to use Python for data analysis, garbage collection, and machine learning. Your sessions are recorded automatically in the platform, giving you another resource for improving your Python knowledge and skills.
You can learn more about Python tutoring in Jerusalem by reaching to Varsity Tutors and speaking with an educational consultant. One-on-one sessions can support your classroom learning and give you a personalized lesson plan that matches your learning style, needs, and goals. Contact Varsity Tutors to learn how you can connect with a Python tutor in Jerusalem in as little as 24 hours.
Your Personalized Tutoring Program and Instructor
Identify Needs
Our knowledgeable directors help you choose your tutor with your learning profile and personality in mind.
Customize Learning
Your tutor can customize your lessons and present concepts in engaging easy-to-understand-ways.
Increased Results
You can learn more efficiently and effectively because the teaching style is tailored to you.
Online Convenience
With the flexibility of online tutoring, your tutor can be arranged to meet at a time that suits you.
Top International Cities for Python Tutoring