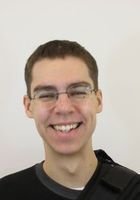 Damian
Certified Tutor
If you choose me to be your tutor then you will definitely ace your test. I'm a great math tutor because I understand the material thoroughly, am patient, and know how to explain things.

I attended Stuyvesant High School and the University of Chicago; I am currently studying Data Science with Johns Hopkins.
Test Scores
SAT Composite (1600 scale): 1570
SAT Math: 800
SAT Verbal: 790
SAT Writing: 740
What is your teaching philosophy?
If you don't get it then I'm explaining it wrong.
What might you do in a typical first session with a student?
Before the first session, I'd have them do a bunch of practice problems on the subject they want to be tutored in, and I'd look over their answers to see what they need help with. I'd also ask them which problems they guessed on or weren't totally sure of. We could start from there.
How can you help a student become an independent learner?
Encourage them to Google examples of step-by-step solutions to the kind of problems they're working on.
How would you help a student stay motivated?
Praise them when they make progress.
If a student has difficulty learning a skill or concept, what would you do?
Think of a different way to explain it Think of examples Move on to the next skill/concept, and come back to the difficult one later Encourage them to think it over the next day and maybe Google step-by-step solutions, or find some on YouTube
How do you help students who are struggling with reading comprehension?
Tell them to try reading the questions before reading the passage.
What strategies have you found to be most successful when you start to work with a student?
Have them explain how they tried to solve problems which they got wrong / guessed on / weren't sure of.
How would you help a student get excited/engaged with a subject that they are struggling in?
Math: link them to a documentary explaining how without math we'd still be cavemen.
What techniques would you use to be sure that a student understands the material?
Ask them to solve problems and explain why their answer is correct.
How do you build a student's confidence in a subject?
Praise progress. Socratic teaching. Doing 1 or 2 examples for them.
How do you evaluate a student's needs?
By having them do a bunch of problems, asking which ones they guessed on / weren't sure of, and checking which ones they got wrong.
How do you adapt your tutoring to the student's needs?
By paying attention to what teaching style most engages them.
What types of materials do you typically use during a tutoring session?
Examples and links.