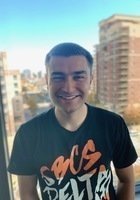 Tommy
Certified Tutor
Hey there! I'm Tommy, I just graduated from Notre Dame with a degree in computer science.
My teaching style is simple and relaxed, putting an emphasis on what students know already and building from there. The biggest teaching mistake I believe exists is starting from a concept that a student doesn't understand and unknowingly confusing them more. My goal is to get students excited about what they're learning and constantly remind them of the "why": how it all matters in the real world.
Hobbies
I like playing tennis and Spikeball, running, and singing. I also build electric skateboards for fun!
Tutoring Subjects
AP Computer Science Principles
Assembly Language
C
C++
College Computer Science
Computer Programming
CSS
Elementary School Math
HTML
Java
JavaScript
Linux
Mac Basic Computer Skills
MATLAB
Productivity
Programming Languages
SQL
Technology and Coding
Web Design
Web Development