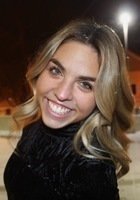 Kate
Certified Tutor
I am a senior at the University of Miami majoring in microbiology and immunology and minoring in health sector management and chemistry. I found my love for teaching as a TA for a microbiology course that I lead at my university. I am a current pre-medical student with an aspiration to be a doctor one day. While I tutor a range of subjects, I am most passionate about biology/microbiology. My other passions lie in advocating for mental health, as I am a volunteer Crisis Counselor for Crisis Textline and believe that mental health is of utmost importance, especially for students in a rigorous academic setting.
Education & Certification
Undergraduate Degree: University of Miami - Bachelor of Science, Microbiology and Immunology
Hobbies
My interests lie in health and wellness, specifically the microbiome and gut health! Physical wellness is also very important to me whether it takes the form of weight lifting or yoga! I am also passionate about cooking and baking, specifically gluten and dairy-free recipes that actually taste good!
Tutoring Subjects
Anatomy & Physiology
College Biology
College Chemistry
Health Care Policy
High School Biology
High School Chemistry
Honors Biology
Immunology
Medicine