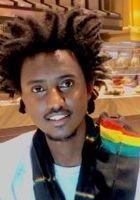 Million
Certified Tutor
Do you need computer programming courses?
I believe teaching and learning should be fun. If learning is not challenging and fun, then it will lead to boredom, burnout, and disinterest.

I I received my bachelors degree in computer engineering in 2016. I have been tutoring computer programming since 2018. I now work full time as a computer programmer, primarily working as full stack developer and Data scientist.

"The #1 predictor of success... GRIT!! The ability to persevere, overcome, and move forward in spite of challenges, failures, and obstacles."
Education & Certification
Undergraduate Degree: Addis Ababa University - Bachelor of Science, Computer Science
Hobbies
Dancing, musicals, programming, practicing different languages, doing arts and crafts (crocheting and cross-stitching among the latest), reading/listening to audiobooks, hiking and exploring the outdoors
Tutoring Subjects
Algorithms
Computer Programming
CSS
HTML
Java
Programming Languages
SQL
Technology and Coding