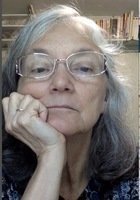 Paula
Certified Tutor
My reason for tutoring is for the pleasure of sharing one of my favorite pastimes - learning! All of my life, I have taught. Sometimes formally, sometimes informally, but it's always been a part of my life. I have worked with all levels and ages, and enjoy them all. Helping others to learn is such a privilege!
I earned my B.A. at the College of William and Mary, in K-8 Education and English. At the University of Virginia, I earned a Masters of Education in Curriculum Development. I'm licensed as both a teacher and a reading specialist in the state of Virginia.
I enjoy teaching all subjects, but reading and grammar were always my favorite.
When teaching, I usually begin by questioning. If a teacher meets you where you are and fill in any gaps in learning, then any subject becomes easier.
Teaching and learning are such fun, and I hope to see you at Club Z!
Hobbies
My hobbies are cooking, reading, drawing and painting, tutoring, piano, singing, walking, exercising, taking online classes, church involvement, and spending time with friends and family.