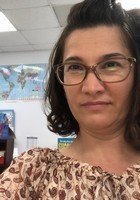 Gabriela
Certified Tutor
I am a graduate of East Carolina University where I received a Bachelor in Science in Elementary Education and Wayne Community College where I received an Associate in Arts and Business Administration. I am currently working on ESL (teaching students of other languages) Praxis.
Since graduation I worked as a 5th grade Science teacher and 3rd grade general education teacher. In my experience I worked with the whole classroom, small group and one-on -one with students and while I truly enjoy all of those formats, I have to admit that tutoring one on one is my passion and strength. I tutored students in Math in my student years in University in my native country. The greatest compliment I got was that "I make complicated things seem easy". I also tutored Spanish at Wayne Community College. My favorite subject to teach and tutor is Math but I also like to teach reading comprehension at the elementary level.
I believe education is vital in life and is worth pursuing and investing in it. As Thomas Edison said, "success is ten percent inspiration and ninety percent perspiration".
In my spare time I enjoy reading, nature, traveling, biking and playing tennis.
Education & Certification
Undergraduate Degree: East Carolina University - Bachelor of Science, Elementary School Teaching
Hobbies
I enjoy reading, nature, traveling, biking and playing tennis.