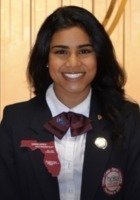 SriVarsha
Certified Tutor
Hey there! Glad you found me! I am an undergraduate student at the University of Florida on the pre-med track, majoring in Neuroscience! I love teaching students about math and science. I am a big advocate of studying smarter and not harder. Math and science can seem daunting at first but they can become easy once you understand them. I also have a love for the humanities. I believe that reading and writing are art forms! I would love to help your student appreciate their intricacy and complexity!
Education & Certification
Undergraduate Degree: University of Florida - Current Undergrad Student, Psychology
Test Scores
SAT Composite (1600 scale): 1460
SAT Math: 770
Hobbies
I love going on spontaneous adventures, trying food from local businesses, and painting landscapes.
Tutoring Subjects
Admissions
College Application Essays
Elementary School
Elementary School English
Elementary School Math
Elementary School Reading
Elementary School Science
Elementary School Writing
High School Biology
High School Chemistry
IB Biology
IB Mathematics: Analysis and Approaches
IB Mathematics: Applications and Interpretation
Other
SAT Essay
SAT Verbal
Yoga