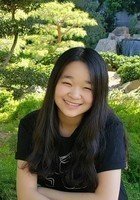 Megan
Certified Tutor
I am a first-year student pursuing a Bachelor of Science in Computer Science at Harvey Mudd College. Throughout all four years of high school, I tutored my peers in subjects such as chemistry, algebra, geometry, calculus, and statistics. Passionate about sharing my learning with younger students in the community, I was also a primary instructor for the Kumon Math and Reading Center, where I spent three years teaching math and reading to students who ranged from pre-K to 12th grade. Additionally, as an assistant instructor for the Arizona Science Center's Camp Innovation, I empowered youth by delivering science programming to children between the ages of four and seven. Through such experiences, I've realized the impact that I can have as a tutor.

In addition to helping students understand their classwork and improve their grades, I have the opportunity to build positive relationships, bring motivation to those in need of it, and most importantly, help others succeed after recognizing their potential. Although I tutor a wide range of subjects, my favorite subjects to tutor are those related to math and science because I believe in the importance of building STEM literacy.

In my free time, I enjoy hiking, drawing, playing my viola, listening to music, and traveling.
Education & Certification
Undergraduate Degree: Harvey Mudd College - Bachelor of Science, Computer Science
Test Scores
SAT Composite (1600 scale): 1540
SAT Math: 800
SAT Verbal: 740
SAT Mathematics Level 2: 800
SAT Subject Test in Chemistry: 760
Hobbies
In high school, I was involved in HOSA - Future Health Professionals, Peer Tutoring, Science Olympiad, Music Club, and Chamber Orchestra. Currently, I'm an active member of Harvey Mudd College's Society of Women Engineers (SWE) organization. Outside of academia, I enjoy hiking, drawing, playing my viola, listening to music, and traveling.
Tutoring Subjects
Conversational Spanish
Elementary School
Elementary School Math
Elementary School Reading
Elementary School Writing
Middle School Science
Other
SAT Subject Test in Mathematics Level 2
SAT Subject Tests Prep
Spanish 1
Spelling Bee