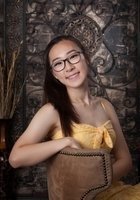 Alexandra
Certified Tutor
I recently graduated from Chandler Preparatory Academy and am currently a full time college student at the University of Pittsburgh. Having recently graduated from high school, the SAT and ACT are still fresh in my mind. I am a native mandarin speaker, and I lived overseas in Taiwan and China for five years. I took honors french for four years, and scored top twenty in the National French Exam from 2018 to 2019.
Test Scores
ACT Composite: 31
ACT English: 34
ACT Reading: 35
ACT Science: 30
SAT Composite (1600 scale): 1470
SAT Verbal: 790
Hobbies
In my spare time, I enjoy horseback riding, volunteering with animals, reading, discovering new music, and painting!
Tutoring Subjects
Admissions
AP Chinese Language and Culture
CLEP Prep
CLEP French
College Application Essays
Conversational French
Conversational Mandarin
Elementary School English
High School Writing
Mandarin Chinese 4
Middle School English
Other