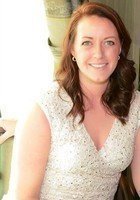 Nicole
Certified Tutor
I graduated from Texas Lutheran University with a B.S. in Secondary Education and a minor in Mathematics. I chose to become a math teacher because, like many students, I went through grades k-12, having a rocky relationship with math. I was not good at it, and I did not like it. In college, I took a math course, and something clicked. I found a new understanding and fell in love with the topic, and I wanted to change the way students saw mathematics. I taught high school math for four years, from on-level courses to Dual Credit and AP courses. My favorite subjects to work with are Geometry, for its practicality, Statistics for its power, and Pre-Calculus because trigonometry is fun! While those are my favorites, I can tutor Pre-Algebra, Algebra (1 and 2), and Calculus, as well.
I believe that learning is a process, a slow, non-linear, vulnerable, and frustrating process. It is essential for the tutor and student to have a trusting relationship and for the tutor to follow what the student needs. While a student may be enrolled in Calculus, it may be necessary to revisit some basic algebra concepts. As a tutor or a teacher, it is vital to allow a student to visit old concepts and be patient with the process.
Education & Certification
Undergraduate Degree: Texas Lutheran University - Bachelor of Science, Mathematics Teacher Education
Hobbies
My hobbies include making greeting cards, reading various genres of books, watching Friends and Forensic Files, gardening, and cleaning! I have recently developed an interest in studying human behavior and psychology.