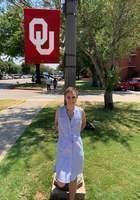 Lauren
Certified Tutor
I've always loved learning, but I often needed someone to remind me why. I want to be that person for other students. I've taught Spanish in America and English in Panama, India, and Morocco. I was a part of the esteemed Arabic Flagship Program at the University of Oklahoma where I tutored students in various dialects of Arabic until I graduated with degrees in Arabic and Linguistics. My favorite subjects to teach are anything related to language, e.g., reading, writing, speaking...if it has words, I'm excited! Linguistics is my passion. i also love teaching the study and organizational skills i struggled to learn from scratch in college. I know from experience as a neurodivergent student that a patient teacher and a personalized approach makes all the difference in the learning experience. I work to make all material exciting and achievable for each student so they feel that they are truely learning, and they enjoy it. I'm a firm believer in the benefits of life-long learning, and the earlier a student finds a passion for it, the more fulfilling their life will be, but that it's never too late, either.

When I'm not studying languages, i enjoy reading, the violin, climbing (anything and everything), and creating the perfect habitat for each of the bugs and critters i catch. If you ever see me running, something is chasing me. I much prefer yoga.
Hobbies
Language! Figuring out where we got the word "Artichoke" or learning how personal pronouns are used in Thai. I love scary animals, ask me about my pets! More of my hobbies: Climbing (anything), Traveling abroad, Making things with my hands.
Tutoring Subjects
Adult ESL/ELL
Adult Literacy
Conversational Spanish
Hindi
Other
Spanish 1
Study Skills
Study Skills and Organization