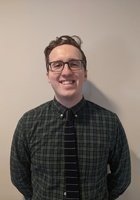 Henry
Certified Tutor
My passion is helping students improve their writing ability. Improving writing is the most effective way to distinguish a great student from a good one, and a prospective applicant from an approved one.

My primary focus is to help students with mastering the writing process: planning, drafting, rewriting, editing, and revising. I work on increasing the confidence of the writer as well as helping them find the joy in crafting a well written work. I also frequently work with students on:

Scholarship Application Essays
College Application Essays
Grad School Application Essays
Research Driven Writing
Academic Essays (focusing on Social Studies and English)
Personal Essays

Building Writing Confidence:

Writing is a difficult process that few have mastered. It can be daunting to tackle it alone. I work with students to increase their faith in their own skill. I do this by focusing on the prewriting and planning stages of the writing process. I also help students master editing and rewriting, helping good writing become perfect. Above all, I help the student tackle the writing objectives, whatever they may be. I encourage them in their own ideas, and I help the writer make progress every session. In the end, the writing must be the writer's alone, but I can offer support and encouragement every step of the way.
Hobbies
Writing Reading Pub Trivia Board Games and RPGs
Tutoring Subjects
American Literature
College English
College Level American Literature
High School English
High School Level American Literature
High School Writing
SAT Verbal