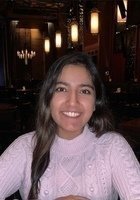 Drishti
Certified Tutor
I love tutoring students because of how fun and rewarding it is. I attended Jericho High School where I was secretary of the peer tutoring club. I tutored over 50 hours each year in algebra, geometry, calculus, statistics, biology, chemistry, and physics. My favorite subject tutor has always been any level of math through AP Calculus BC. I have also been an SAT tutor at my local test prep center in my senior year of high school. I'm currently a sophomore at Cornell University working towards a bachelor of arts in biological sciences. As a tutor, my ultimate goal is to make sure my students feel confident enough about a subject to answer questions without any help and feel prepared for their exams. I truly enjoy the tutoring process and the ability to help students find their own potential in any subject. I hope to be a good fit for any tutee, and I am willing to put the hours and effort in order to get improved results.
Education & Certification
Undergraduate Degree: Cornell University - Bachelor in Arts, Biology, General
Test Scores
SAT Composite (1600 scale): 1500
SAT Math: 800
SAT Verbal: 700
Hobbies
I love ice skating, swimming, and dancing. I also started learning how to play tennis and bake this past summer.