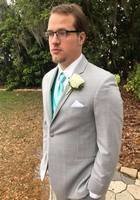 Giorgio
Certified Tutor
HI!
My name is Giorgio, I was born and raised in Milan, Italy. I moved to the US in 2012 for college and graduated in industrial engineering in 2016 and then with an MBA in 2019.
I follow a very Socratic method of teaching which is the one I was raised in, I am a big fan of classical European style of education, a lot of talking and learning about the subject as well as each other.
I look forward to teaching anyone who is willing to learn!
Hobbies
Brew beer, brew wine, market equity research and investing, biking, growing fruit trees, growing veggies, travel
Tutoring Subjects
Business
Business Ethics
Other
Personal Finance