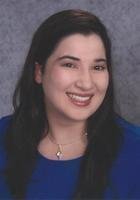 Rachel
Certified Tutor
I have been fortunate enough to receive a phenomenal education and to have had many committed, engaging, approachable teachers and professors, in the sciences, engineering, and mathematics, and in all subjects. My goal is to be able to give to students even a fraction of what was given to me.

I expect my students to dedicate themselves to their schoolwork through diligence in completing class and homework assignments and in asking questions on material they cover in class and during sessions. In turn, I do my level best to relate to students and not just to teach them a subject, but to encourage their curiosity and foster a love of learning by using practical examples and real-world applications in my tutoring.

In my tutoring style, I strive to maintain a rigorous yet balanced environment and to be approachable. I want students to feel they can come to me with any and all relevant questions they might have on and beyond their coursework.
Education & Certification
Undergraduate Degree: University of Pennsylvania - Chemical Engineer, Chemical and Biomolecular Engineering
Test Scores
SAT Composite (1600 scale): 1520
SAT Verbal: 730
SAT Writing: 800
Hobbies
Reading, cooking, performing arts