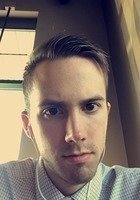 Andrew
Certified Tutor
Hello! My name is Andrew and I am currently a Masters student at UNC-Chapel Hill. I first gained experience working as a tutor during my undergraduate career, at which point I worked with students who were studying sociology and English as a second language. My academic interests span a wide array of topics including social sciences, humanities, writing, and foreign language.

One of my favorite passions is learning languages I have been studying French for eight years and Spanish for three years. I love the way languages allow us to be more mindful and appreciative of other cultures and see the world through a different lens. After 8 years of study, I feel confident in my knowledge of the French language and enjoy working with French students at various levels of study.

In addition to these subjects, I like working with students who are preparing for standardized tests such as the ACT, SAT, and GRE. I understand that these tests are significant components of a student's application for the next steps in their education, and that sometimes standardized tests can be stressful and are not always the most accurate representation of a student's academic abilities. I hope to ensure that each student feels confident and prepared before taking such an important assessment.

It is very important to me that students I work with feel respected as an individual. I always strive to create an inclusive and accepting environment for students of all backgrounds and identities. Additionally, regardless of subject, I believe that each student has the ability to succeed sometimes the biggest barrier to that success is how hard we are on ourselves. When working with students, one of my biggest goals is to be supportive and encouraging to help students believe in themselves. Once that obstacle is overcome, your goals will become so much closer to your reach. I am looking forward to working with you and helping you find a bridge to success!
Test Scores
ACT Composite: 31
ACT English: 33
ACT Reading: 34
ACT Science: 30
GRE Verbal: 163
Hobbies
Music, Foreign Language Studies, Traveling
Tutoring Subjects
French 1
High School Writing
Social Sciences