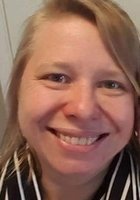 Stacey
Certified Tutor
Greetings my name is Stacey. I am a single mother to a 15 year old son who has autism. For as long as I can remember I have wanted to teach. When I had my son I choose to home school him and have been part of many amazing co-op groups.

In those groups I was one of the teachers and created lessons on science, history, astronomy, and life skills. I also work in Boy Scouts as one of our council's scout and leader trainers. I also run the new scout program at our summer camp.

At 45, I am back in school and finishing my degree in Christian Ministry and Psychology and plan on getting my masters in education.

I work well with students that have IEP's and my tutoring methods are aligned with the child's learning style and pace. One of the methods I use to teach is called EDGE. Which stands for Explain, Demonstrate, Guide, and Enable. This process helps create good learning foundations and makes sure that the student has mastery of skill before moving on.
Hobbies
I love doing photograph, scouting, and reading.
Tutoring Subjects
Middle School English
Middle School Science
Middle School Writing