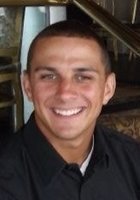 Michael
Certified Tutor
Teaching is a passion of mine because I enjoy the aspects of helping students develop to their highest potential. I love working through their struggles and understanding their learning style so that I can teach them to the best of their abilities. As well as they can now understand how they can learn to the best of their abilities. I enjoy motivating them and getting them excited to learn because I know that being excited about learning is the key to gaining their success.
Education & Certification
Undergraduate Degree: Washington Jefferson College - Bachelor in Arts, Elementary School Teaching
Graduate Degree: California University of Pennsylvania - Master in Management, Sports and Fitness Administration
Hobbies
Love the outdoors including camping, hiking, and canoeing. I also love football and have coached for several years. I enjoy spending time with my family and going to do fun things with them. I like to work outside and do a lot of landscaping.
Tutoring Subjects
Elementary School
Elementary School Math
Elementary School Reading
Elementary School Science
Elementary School Writing
Middle School Reading Comprehension
Middle School Writing
Other