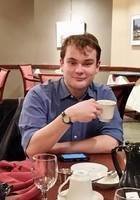 Aidan
Certified Tutor
I am a graduate student at Portland State University, where I also work as a tutor in the Writing Center.

My tutoring experience, however, goes beyond that. I worked as a peer writing tutor at Bennington College, where I completed my undergraduate degree. My experience, though, is not limited to working with college students. Indeed, I have spent more time working with high school and middle school students, spending 3 years tutoring Math and English at a charter school in Providence, R.I., and a year working with 6th graders.

Having worked across different age groups, I recognize that there is no one correct method of tutoring. Indeed, it is to my advantage to work across the age groups, because it has allowed me to develop my style of tutoring, which is entirely student driven.

By that, I mean I go into a tutoring session ready to respond to what the student needs. As a tutor, I am not the primary educator, but rather someone who offers what a student might not necessarily have at school: personalized, one-on-one support and assistance, designed to meet the needs of the student, and tailored around how best the student learns and engages with their subjects.

Because of that, I find working with students to be very rewarding. Each student is different, and making it possible to better myself as an educator, and allowing me to better help my students.
Test Scores
SAT Verbal: 750
GRE Verbal: 165
Hobbies
Writing, reading, playing soccer, watching soccer, traveling, trying new food, exploring new places and things!
Tutoring Subjects
American Literature
College English
College Level American Literature
Elementary School Math
French 1
High School English
High School Level American Literature
High School Writing