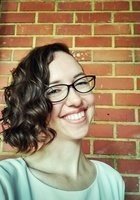 Sara
Certified Tutor
"Cikgu" (pronounced chay-goo) means "teacher" in Bahasa Melayu, the language of Malaysia. For the past four and a half years, I have lived in Malaysia as a cikgu, first with Fulbright, the Department of State's flagship international exchange program, and later with an educational therapy company that specializes in one-on-one instruction and holistic learning.

During my time with these two organizations, I developed a personal vision of education that truly centers the student. As an instructor with years of experience working with diverse international populations, I believe that our differences, whether they be cultural, cognitive, behavioral, linguistic, or simply in terms of our interests, deserve to be honored throughout all of our educational journeys. Our backgrounds, as much as our prospective futures, shape who we are and what we need. I believe in teaching practices that not only evolve depending on student needs, but also truly, deeply respect the whole student, including who they are, where they come from, and what they need to move forward.

I also have a background in counseling, and I am currently enrolled in a psychology program in Irvine, where I now live, that supports my drive to learn more about the human mind and condition. I bring the principles of counseling into every student interaction: non-judgment, respect, thinking with rather than for, and empathy shape my work with students and clients of all ages.

And, above all else, I enter every interaction with the following belief: Every person has potential. Every person has the ability to achieve life happiness. All that's needed is the right support--it's my job to provide it.
Test Scores
ACT Composite: 34
Hobbies
Travel, jazz music, psychology, vocal performance, hiking, and reading!
Tutoring Subjects
Adult ESL/ELL
Adult Literacy
American Literature
College Application Essays
College English
College Level American Literature
Elementary School
Elementary School Reading
Elementary School Writing
High School English
High School Level American Literature
High School Writing
Middle School Reading
Middle School Reading Comprehension
Middle School Writing
Other
Spelling Bee
Study Skills
Study Skills and Organization