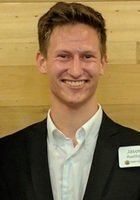 Jason
Certified Tutor
I am a huge supporter of the notion that doing helps you learn. Being a distance runner and expanding into the triathlon world, I know the power of practice and putting in the time to make sure that you put effort into practice. I live by the phrase "You play how you practice.... So practice hard."

In order to practice well, you do need to pay attention to your form. I thoroughly enjoy getting feedback in a supportive manner. This feedback may be tricky to always swallow, but is vital to making beneficial changes in life.

Lastly, I love to find the ways that what I learn and what I teach applies to the real world. Without having a context and purpose for learning content, there is no reason to do it. Finding a reason to study is the difference for those who will excel.
Education & Certification
Undergraduate Degree: Marquette University - Bachelor of Science, Biomedical Engineering
Test Scores
ACT Composite: 32
ACT English: 30
ACT Math: 32
ACT Reading: 32
ACT Science: 36
Hobbies
Triathlon, Distance Racing, November Project, Behavioral and Habitual Psychology, Organizational thinking, Euchre, and Cribbage
Tutoring Subjects
Biomedical Engineering
College Physics
Elementary School Math
High School Physics