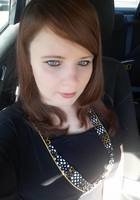 Kaylin
Certified Tutor
I am currently a Junior and Undergraduate at Old Dominion University seeking my Bachelor's Degree in Human Services (Counseling). I am currently on the Dean's List and I am an active club member of the Human Services Organization and the ODU Anime Club. I have a typing speed of 73 wpm and expertise in interpersonal skills. I obtained my Associate's Degree in General Sciences at Arts at Southside Virginia Community college in 2016. I worked as an English and Liberal Arts Tutor for Southside Virginia Community College for two years. I have taught students in a variety of other subjects and assisted with certification testing for CNA, EMT, and the ASVAB Test. I also offer tutoring in time management and study skills.

I have tutored students of all ages. I have tutored elder students with Information Technology and how to basically operate a computer. I have tutored dual enrollment high school students in their normal courses as well as their dual enrollment courses. I have also volunteer in the AWANA program at my former church for 2+ years as an Instructor's Assistant and teaching the class as well. I have worked with children of all ages in the program (mainly pertaining to 3-year-olds and 4-year-olds). My tutoring skills pertains to the student's learning style such as kinesthetic , visual, and audio learner- I have obtained skills to assist students with different learning types.
My tutoring style coordinates to the needs of the student and their learning structure.

I am an outgoing, energetic, person who loves to help people. In my spare time, I love to watch anime, play video games, play sports such as soccer, and go wind surfing/sailing. I love spending time with my loved ones as well as be creative in the arts such as painting, poetry, and drawing.

I feel that it is important to have a personal connection with students and those who wish to be tutored. My goal is to help anyone who seeks assistance into accomplishing their goal while making it a fun experience at the same time.
Hobbies
Some of my hobbies and interest include art, painting, drawing, poetry, soccer, sailing/wind surfing, horseback riding, anime, video games, and being with loved ones.
Tutoring Subjects
American Literature
Art
ASVAB Prep
Basic Computer Literacy
Cell Biology
College English
Elementary School Math
Elementary School Science
Emergency Medicine
Handwriting
High School English
High School Level American Literature
High School Writing
Human Development
Medicine
Microsoft Excel
Microsoft Office
Middle School Reading
Middle School Reading Comprehension
Middle School Science
Middle School Writing
PC Basic Computer Skills
Social Sciences
Technology and Coding