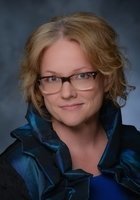 Karin
Certified Tutor
I teach all aspects of English, including critical reading, persuasive writing, comparative literature, public speaking, specializing with ACT/SAT/AP and other test strategies. I've taught and lectured at universities, schools and with individuals around Chicagoland as well as in the Bay Area. I customize study plans with learners and their advocates to utilize existing abilities and add new techniques to reach personal and scholastic goals.

I have a BS in Communications and Theater, and an MFA in Creative Writing. I have completed Continuing Education at Northwestern and Stanford Universities. I'm a professional features writer and arts reviewer. I've edited Perspective design journal and Reed literary magazine, and have performed memoir essays Ive written on Chicago Public Radio.

I know there is no better, nor more crucial, calling than helping kids to find and communicate their voices.

I have tutored and created curriculum for a broad spectrum of English learners. I come from a family of teachers, and was fortunate to grow up at the Smithsonians National Museum of Natural History, where my anthropologist mom was Education Director. Since early childhood, I've been immersed in multicultural and ELL education. I've devoted my personal and professional time to diversity and storytelling, starting at public TV station WETA in my hometown outside Washington, D.C., where I certified as a trainer with Sesame Streets Preschool Education Project.

I've also taught creativity and teambuilding through improvisation to all ages (as well as creating a kids summer camp), reading for the SAG Foundations BookPALS (Performing Artists for Literacy in Schools) program, plus reading and writing skills to at-risk students through the Park Districts Kraft Great Kids Program. I've assisted many of my arts marketing clients, including Barrel of Monkeys and Kidworks Touring Theatre, with youth literacy programs at schools and libraries throughout the city.

Hobbies
Writer, actor, publicist, marketer, yogini
Tutoring Subjects
Adult ESL/ELL
Adult Literacy
American Literature
AP English Language and Composition
AP English Literature and Composition
Art
British Literature
Business
Business Writing
CLEP Prep
CLEP American Literature
CLEP English Literature
College Application Essays
College English
College Level American Literature
Comparative Literature
Elementary School Reading
Elementary School Writing
GED Reasoning Through Language Arts
GMAT Verbal
GRE Subject Test in Literature in English
GRE Subject Tests
High School English
High School Level American Literature
High School Writing
ISEE-Lower Level Reading Comprehension
ISEE-Lower Level Verbal Reasoning
ISEE-Lower Level Writing
ISEE-Middle Level Reading Comprehension
ISEE-Middle Level Verbal Reasoning
ISEE-Middle Level Writing
ISEE-Upper Level Reading Comprehension
ISEE-Upper Level Verbal Reasoning
ISEE-Upper Level Writing
Middle School Reading
Middle School Reading Comprehension
Middle School Writing
Other
Theatre