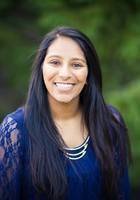 Kajal
Certified Tutor
Helping other individuals learn and them grow is always great to see. This is one of the main reasons I chose to be a tutor. Prior to becoming a tutor, I was a Student TA at Saint Louis University for Introduction to Law. Although I am still attending school, my passion to help others has only grown as I've been in college.

I'm currently a double major working towards a B.S. in Healthcare Management and Legal Studies. These majors have helped me strengthened my reading and writing skills while allowing me to further my education in political science, business, and math classes. Because of this, I am comfortable in educating others in math subjects, political science, accounting, writing, economics, and public health. I believe every student has a different way of learning meaning that I have various ways of teaching others to provide the most effective strategy to help them learn.

Outside of academics, I have a passion for sports, especially basketball, softball, and running, and am interested in photography.
Hobbies
Basketball, softball, running, and photography
Tutoring Subjects
Business
College Accounting
College Economics
College English
College Political Science
Criminal Law
Elementary School
Elementary School Math
Elementary School Reading
Elementary School Writing
Financial Accounting
High School Accounting
High School Business
High School Economics
High School Physics
Law
Managerial Accounting
Medicine
Middle School Science
Other
Photoshop
Political Science
Public Health
Social Networking
Social Sciences
Technology and Coding