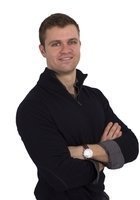 Leif
Certified Tutor
A Georgetown University alum, I graduated with an Economics Major and Mathematics and Business Administration minors. I graduated with over a 3.8 in my major, and was a Teaching Assistant and Tutor for most of my time at Georgetown. I scored a 780 on my SAT Math 2, 780 on my SAT Reading, 36 on my ACT Reading, 740 on my SAT Math, and 334/340 on my GRE (96th percentile, 168/170 for QR/Math, 166 for VR/Reading).

The reason why I spent so much of my time teaching courses at Georgetown was not simply to gain experience and knowledge in the field, but also because I thoroughly enjoyed it. I enjoy interacting with students, and helping them to gain a thorough understanding of the subject, beyond simply knowing how to plug and chug for a test. I take pride in my lessons, and always seek feedback on how to improve for the next lesson. I look at this as a partnership for both of us.

At the end of the day, I love and understand the topics I teach, and want to bring that to my students. Learning that feels more like fun than a lesson is not only more enjoyable, but has been proven to stick with the student longer as well!

I look forward to meeting and working with you.
Test Scores
ACT Composite: 34
ACT English: 33
ACT Math: 32
ACT Reading: 36
ACT Science: 34
SAT Composite (1600 scale): 1510
SAT Math: 740
SAT Verbal: 780
GRE: 334
GRE Quantitative: 168
GRE Verbal: 166
SAT Mathematics Level 2: 780
SAT Subject Test in Physics: 740
SAT Subject Test in U.S. History: 700
SAT Subject Test in Literature: 730
Hobbies
I stay physically active most days of the week, whether it be soccer, some outdoor activity, or a work out. I love playing guitar or piano in my downtime to help reset myself. I enjoy reading, the occasional show or movie, and both meeting new people as well as hanging out with old friends.
Tutoring Subjects
ACCUPLACER Arithmetic
Business
College Economics
Elementary School Math
High School Economics