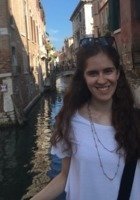 Whitney
Certified Tutor
I'm a biomedical engineering student and undergraduate researcher at Texas A&M University working towards a Bachelor of Science degree. For as long as I can remember, I've always had a passion for learning. In high school, I challenged myself by taking as many AP exams as possible. Doing so not only shaped my love of education but also challenged me to become a self-taught learner. Using what I learned from AP exam preparation allowed me to become a National Merit Finalist, two-time National AP Scholar, and valedictorian of my graduating class of over 600 students. While my favorite subjects to tutor are high school-level and engineering calculus, I am happy to tutor in a range of subjects, including all-around ACT preparation, high school and college math, chemistry, physics, and world history. By tutoring, I hope to share my passion for learning while also providing students with the tools they need to succeed.
Education & Certification
Undergraduate Degree: The Texas AM University System Office - Bachelor of Science, Biomedical Engineering
Test Scores
ACT Composite: 35
ACT English: 35
ACT Math: 35
ACT Reading: 35
ACT Science: 35
Hobbies
writing, reading, running, yoga, hiking, traveling.
Tutoring Subjects
Biomedical Engineering
C
CLEP Prep
CLEP Calculus
CLEP Chemistry
College Physics
Elementary School Math
Harp
High School Chemistry
High School Physics
High School Writing
Java
MATLAB
Microsoft Excel
Middle School Science
SAT Subject Tests Prep
Technical Writing
Technology and Coding