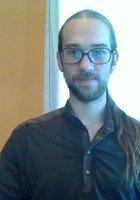 Everett
Certified Tutor
Hello!
My name is Everett. I've just graduated with my Associate's degree from Great Basin College in Pahrump, Nevada. I have diverse interests, but am focusing on computers at the moment.
When I'm not working as tech support or studying, I work on my boat, which I will live on once it's completed.
I hope to work with you!
Education & Certification
Undergraduate Degree: Great Basin College - Current Undergrad Student, Science Technology
Test Scores
SAT Composite (1600 scale): 1410
SAT Verbal: 700
SAT Writing: 720
Hobbies
Sailing, traveling, writing, building things, woodwork, research, reading, coding/learning linux, video games (pokemon).
Tutoring Subjects
American Literature
C++
College English
College Political Science
CSS
Discrete Math
High School English
High School Level American Literature
High School Political Science
High School Writing
HTML
Middle School Science
Middle School Writing
Political Science
Social Sciences
Technology and Coding