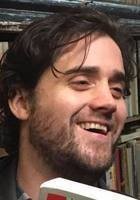 Forrest
Certified Tutor
I am a writer, art critic, and graduate student living in New York City. When I was getting my undergraduate degree at Goddard College I was dedicated to my band and developing my artwork, which eventually led me to a desire to write fiction, poetry and essays about art.

Since moving to New York after graduating from Goddard, I have worked with several art publications as an editor and freelance writer. I love creative work of all kinds, and enjoy helping others develop their creativity. I work with many students who are pursuing careers in the arts who wish to develop their writing skills, or expand their knowledge about art history, philosophy, literature, psychology and world history. If you are in the New York City area, and are looking to expand your skills in an area of my interest, it would my pleasure to hear from you.
Education & Certification
Undergraduate Degree: Goddard - Bachelor in Arts, Liberal Arts and Sciences
Graduate Degree: School of Visual Arts - Master of Arts, Writing, General
Hobbies
Art, music, literature.
Tutoring Subjects
AP Music Theory
Art
CLEP Prep
CLEP History of the United States II: 1865 to the Present
College Level American History
Ecology
Guitar
High School Level American History
IB History
Music
Other