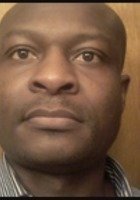 Jim
Certified Tutor

I have a keen interest in teaching environment. My master degree in social science, with major in education informs this choice. Secondly, I have strong ambition and passion to pursue my career at research or academic environment. My working experience as researcher coupled with my teaching experience in high school as well as in college may confirm this choice.

My high school was focused on French literature with Major in Latin, French and Philosophy. After graduating from high school, I was hired as French teacher. My main tasks were to assist French professor in developing course content, to deliver course instruction as well as assisting students in and outside classrooms. I went to law school and after I graduated I was hired as teaching assistant at University of Kinshasa. My main tasks were to teach French, English legal writing. I learned a lot about French styles as well as French literature.

I am applying for this position, because not only I love French literature, but also because I want to pursue my career in a teaching environment. My knowledge of Latin language will allow to apply etymological meaning of words as well as using Latin styles that French stems from. In addition, French is my native language as I grew up speaking French at Home.