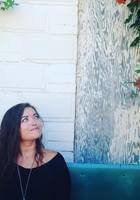 Kara
Certified Tutor
I have a passion for teaching and facilitating critical thinking skills. I want everyone to understand HOW to learn, and not just WHAT to learn.

I am enthusiastic about education and I am a nerd for history, politics, and current events. In high school, surprisingly, my favorite subject was math, and I always thought I was going to be a math teacher. College, however, changed my mind when I fell in love with a Colonial History course and it changed my outlook on my future in education. I want to teach my students to be good citizens and to be successful in everything they do in life.

I have a degree in Sociology and Social Studies Education. I hope I will be a great fit for you!
Hobbies
I am very passionate about politics and I love to read. I'm a huge history nerd and I love to critique the world and do what I can to make it a better place.
Tutoring Subjects
AP Comparative Government and Politics
College English
College Geography
College Level American History
College Political Science
College World History
Guitar
High School Geography
High School World History
Political Science
Social Sciences