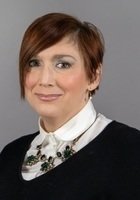 Ericka
Certified Tutor
Professional Background:
I am a certified teacher who has taught all grades and subjects at a PreK-12 online school. I have a master's degree in Educational Technology and a graduate certificate in Online Teaching. I currently work as a graduate teaching assistant at Oklahoma State University while completing a Ph.D. program in Learning, Design, and Technology. Before I was a teacher, I used to work as an RF engineer in telecommunications. My background places me in a position to help students in K-12 and higher education understand real-world experiences working in a STEM career.

Why Work with Me?
I am passionate about helping students succeed in their courses while discovering new things about themselves. I understand what it feels like to struggle because I have a learning disability. However, I learned to overcome these challenges and use these traits to enhance my performance at my job and schoolwork. For example, divergent thinking works for my benefit by allowing me to see new ways to solve difficult problems. I also use educational technology tools and creative methods to improve reading comprehension. However, these skills are suitable for all students to learn, not just students with learning disabilities.

I see students as they are now and who they will become. Since I view students as scholars, I have high expectations for them, including academic responsibility, increased organizational skills, and reflecting on their learning. They receive scaffolding to meet these expectations and thus experience academic and personal growth. I want students to feel confident when thinking about their studies. These reasons drove my decision to become a tutor with Varsity Tutors.
The best rewards for me as a tutor arise during those times students realize their potential and have that "A-HA!" moment. I watch them confidently tackle a challenging assignment and then say, "Way to go! I knew you could do it." Therefore, let's get started and help your scholar reach their potential!

Teaching Philosophy:
My decision to become a full-time educator stemmed from noticing the need for improved continuing education for adult students in telecommunications, desiring a more inclusive curriculum that factored in workers' culture, motivation, ability, and relevance to their jobs. Subsequently, I decided to attend school to become a corporate trainer and then return to the telecommunications world to deliver engaging training for engineers. However, after I began my master's program, I realized the need for improved instructional design and pedagogical practices is everywhere. Additionally, while working as a private tutor, students expressed concerns that they would perform better if their teachers supplied them with various means to complete assignments.
These experiences, in combination with my educational training, ignited a passion in me to develop instructional design materials and capitalize upon equitable teaching practice for the good of the classroom, both online and in-person instruction. I intend to tear down the stumbling blocks that prevent access to meaningful educational experiences to a diverse body of students. My mission consists of creating a culture that sets the stage for excellent academic content and instilling students with renewed confidence by providing scaffolding that allows them to learn in a way that suits their learning needs.
I believe that teachers can begin to create this environment by demonstrating civil actions towards students at all times because mutual respect between teachers and students is the cornerstone of learning. They must show civility towards students and others if they expect students to model this behavior. Teachers respect students by listening to the students' needs and appreciating their individualities. Subsequently, when students feel respected and heard, they are more likely to receive teachers' kind, affirming, and honest assessment of the students' work when they fail to meet their educational goals. In turn, these actions could increase students' motivation, allowing teachers to facilitate deeper learning by building upon prior knowledge, connecting learning objectives to student interests, and encouraging students to take more academic responsibility.
Another part of establishing a positive learning environment includes demonstrating how to ask for help, a significant teaching action that equips students to succeed in academia and future occupations. For many students, this is not an intuitive process. I have noticed that many students fail their classes because they either do not know they need help or do not ask for adequate support. Therefore, students working with me can acquire improved help-seeking skills by receiving instruction about how to ask for help from teachers, other educational staff, and their peers. I also teach students to seek help within learning management systems and other online educational platforms.
Once students understand how to ask for help, successful teachers can aid students' understanding of why and how they should learn new knowledge and subsequently advise students about how they can optimize their educational experiences. I achieve these goals by offering multiple modalities of accessing and retaining knowledge underpinned by a cognitive apprenticeship approach. By providing options, students connect new information to their existing knowledge base and life experiences. Next, dividing complex concepts into challenging yet achievable goals supplies students with improved retention. I also offer multiple opportunities to practice each task before moving forward to the next step and provide the correct level of assistance to aid the student. Since evaluating students' progress is paramount, assessment is essential for the learning cycle. Additionally, I assess student responses to my ideas and make corrections when required. I actively discern which kinds of actions are appropriate to pave the way for the highest levels of achievement.
I also believe that teachers are charged to do more than teach lesson plans; I instead strive to create an environment where innovative thinkers and extraordinary leaders emerge. As an educator, I am responsible for assisting students in meeting the future demands of college, industry, and technology by bolstering a positive attitude about learning that could lead to life-long fulfillment, creating a student-centered environment, and providing opportunities to learn 21st-century skills. I must equip students with the aptitudes and application of soft skills born from collective learning and emerging technologies by integrating appropriate learning experiences and technologies into daily routines. I accomplish this goal by immersing students in new technologies that improve instructional designs and finding outside resources that help students connect their learning to real-world experiences.



Hobbies
I love teaching and learning and spend my free time learning new things! I paint, draw, knit hats and scarves, and enjoy baking cookies. I like to ride my bicycle on lake trails near my home, color in fancy coloring books, listen to Lo-Fi music. I often volunteer at a local pet rescue organization.
Tutoring Subjects
American Literature
AP English Literature and Composition
Business
Clinical Psychology
College Application Essays
College English
College Level American Literature
College Physics
COMPASS Writing Skills
Computer Theory
Conversational Spanish
Distributed Computing
Engineering
High School Biology
High School Physics
High School Writing
Materials Science
Middle School Science
Middle School Writing
Other
Social Sciences
Study Skills
Study Skills and Organization
Technology and Coding
What is your teaching philosophy?
Today's students are most likely to find success in life when they are prepared to face tomorrow's challenges. They can succeed by attaining, and then applying 21st-century skills. As a result, educators are charged to equip students with these aptitudes. In addition to studying Science, Technology, Education, and Math (aka STEM), students must master languages, business precepts, geography, history, and so much more! Twenty-first century learners have a significant load to bear! They may discover that a scholarship alone does not afford as many opportunities as it once did for their parents. They need to acquire an ever-evolving toolbox full of soft skills born from emerging technologies. As exemplary digital citizens, they responsibly collaborate with others in real and virtual worlds and use critical thinking processes when viewing and assessing online resources. If they do not fill their learning toolboxes sufficiently, they may struggle later in life when seeking employment or connecting with others. For these reasons, I seamlessly incorporate soft skills into all my of tutoring sessions. For example, in the instance I accept a new assignment with a fifth grader, I do not envision a 10-year-old kid just trying to get through his homework. I will not treat him this way. I instead imagine an intelligent individual perhaps trying to understand why he has to finish these pesky problems! He has not yet understood why the exercises are vital to his future. The great part is that he can absorb critical thinking traits in a fun way! He can experience meaningful learning while he completes his studies. Encouraging learners to take more academic responsibility is also an essential part of my teaching style. I accomplish this goal by directing them towards educational tools designed to increase motivation. Students discover that the quest for knowledge is a lifelong process happening everywhere- not just in a classroom. I also expect individuals that receive tutoring services to follow up with me after they submit their work. Evaluating students' progress is paramount. After they complete their activities, I assess how they respond to my ideas and make corrections if required. If students are minors, I anticipate that parents stay connected to their children's progress and provide feedback. All planned activities during educational sessions branch from proven pedagogical or andragogical practices. I intentionally study learning theories and consider their importance while creating instructional activities. I discern which kinds of actions are appropriate to pave the way for high achievement. The best rewards for me as a tutor arise during those times students realize their potential and have that "A-HA!" moment. I watch them confidently tackle a challenging assignment and then say, "Way to go! I knew you could do it." That is the truth about you too! I wish to create an environment where innovative thinkers and extraordinary leaders emerge. Furthermore, I believe that YOU are one of these awesome people! Let's get started!