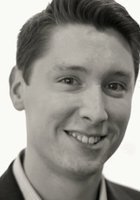 Michael
Certified Tutor
I studied Math and Finance at Boston College and graduated in 2015. In some capacity, I've been helping students of varying abilities and ages in subjects ranging from reading to business to Math for the past 7 years! Nothing is more satisfying than seeing the pieces fall into place for a student who has previously been struggling with a topic. I firmly believe that learning can be interesting when placed into context.

To get to know I'll tell you a little more about myself. Since graduating I've begun working at a software company in NYC. In my free time, I love reading, cooking, and playing music. I've recently begun taking up the guitar. Additionally, I'm always outdoors. I'm looking forward to the upcoming ski season and I just ran my first marathon.

Education & Certification
Undergraduate Degree: Boston College - Bachelors, Mathematics/ Finance
Test Scores
ACT Composite: 33
ACT English: 33
ACT Math: 31
ACT Reading: 36
ACT Science: 33
SAT Composite (1600 scale): 1520
SAT Math: 720
SAT Verbal: 770
SAT Writing: 720
Hobbies
Cooking, Reading (Current Book "Infinite Jest"), Skiing, Running, Guitar
Tutoring Subjects
Discrete Math
High School Business
What is your teaching philosophy?
I believe learning can only occur when students understand the fundamental concepts behind what they're learning and can appreciate why what they're learning about is important. This is why I do my utmost to place concepts in context. I tell the history of mathematical discoveries and why they revolutionized the world, I connect business concepts to current events to show their relevance, and I extrapolate from basic concepts in all subjects to show how what we're learning about now can lead to incredibly powerful tools that have helped shaped the world we live in.
What might you do in a typical first session with a student?
I like to get to know the student in my first session with them. I learn about their interests outside of academics, I learn about what they like about the subject in question, and I typically like to go over some work they've previously done. All of this gives me a better idea of how the student learns, how to motivate them, and where their strengths and weaknesses might lie.
How can you help a student become an independent learner?
I believe learning can only occur when a subject is connected to the world at large. Accounting might be unbearably dry until you start a small business and all of the sudden need to balance a budget. Calculus as a standalone subject was dreadful to me until I learned the history of it, and that its advent was a fundamental shift in the way we viewed the world of mathematics. For this reason, connecting the subject in question to the world in a way that interests the student is the best way for them to want to learn more independently.