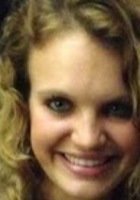 Katrina
Certified Tutor
My goal of being a lifelong learner coincidentally paved the way to my current position as a middle school dance teacher in Harlem. I considered myself "undeclared" both in my freshmen year of college and my freshmen year of real life. Luckily, this openness led me to pursue a Bachelors of Science in Human Development Family Studies with a double minor in Social Entrepreneurship/Not-for-Profit Business Management and General Business at Samford University, and a Masters of Science in Elementary Education and Special Education (Gr. 1-6) through Touro College. As a means of professional development as well as personal fulfillment, I am currently working on my second Master's Degree through UNCG in Dance Education!
Education & Certification
Undergraduate Degree: Samford University - Bachelors, Human Development & Family Studies
Graduate Degree: Touro College - Masters, Childhood Education & Special Education (Grades 1-6)
Test Scores
ACT Composite: 33
ACT English: 36
ACT Math: 31
ACT Reading: 34
ACT Science: 29
SAT Composite (1600 scale): 1490
SAT Math: 720
SAT Writing: 790
Hobbies
Dancing, Fitness, Crafting
Tutoring Subjects
Art
Elementary School Reading
Elementary School Writing
High School English
High School Writing
IB Dance
Middle School Reading
Middle School Reading Comprehension
Middle School Writing
Other
What is your teaching philosophy?
I am extremely confident in the powerful role of the arts in helping students to express and motivate themselves, to critically think and create, and to work and collaborate with others, and I see my role as one in which I help give students an opportunity to fall in love with the arts. I hold an uncompromising view that all students can learn if given a structured and positive learning atmosphere that welcomes exploration, encourages participation, and reinforces confidence. My Teaching Creed is this: -I believe that teaching truly requires considering what is in the best interest of the child at every turn and in making every decision. -I believe that every child is implicitly awesome, and if a child forgets to "show their awesome," I believe it is my obligation to help them rediscover the unique and special qualities that make them so awesome. -I believe that my students and their families deserve my absolute BEST as a teacher and as a person. If I am ever put in a situation that I am no longer able to give them my absolute best for whatever reason, I believe it is my responsibility to take ownership over the situation immediately and make decisions accordingly.
What might you do in a typical first session with a student?
In a typical first session with a student, it would be super important for me to get to know the student as a learner and spend a lot of time LISTENING to what they were looking to get out of their experience here. Later in the session, I might do some informal (read: casual!) assessing to see where the student is coming from and help inform the direction of the rest of the session and of future sessions.
How would you help a student stay motivated?
Figure out the root of the difficulty with the skill or concept, and then go from there. Additionally, be open to listen to the student; oftentimes, students know exactly what aspect of a skill or concept they aren't comfortable with and can easily verbalize that!
How do you help students who are struggling with reading comprehension?
Try to get to the root of the issue. Are they struggling with reading comprehension because they're not engaged with the content? How can we make the content more engaging to up their level of reading comprehension? Or, are they struggling with reading comprehension due to needing some extra coaching around fluency or perhaps needing some extra coaching around how to attack and dissect a long passage? I always strive to look for the "why" behind the struggle. :)
What strategies have you found to be most successful when you start to work with a student?
Building a strong relationship founded on trust and mutual respect, as well as creating a safe space where the student feels comfortable to take academic risks.
How would you help a student get excited/engaged with a subject that they are struggling in?
Find a connection between an interest of the student and the subject matter! Sometimes, it may be a stretch...but ANY personal connection to what you're learning about is better than none at all!
What techniques would you use to be sure that a student understands the material?
Frequent informal assessments throughout the course of the study to ensure that we aren't going through too much material, getting to the end of the material, and THEN realizing we have a misunderstanding. Rather, I prefer to have "bite-sized" mini-assessments to ensure that we are using the outcomes of those assessments to drive our instruction in a strategic and effective way.
How do you build a student's confidence in a subject?
Encouragement, persistence, grit, and celebrating the small victories! Very often, I find that when we are not confident about something, it is because we haven't experienced the feeling of success in it before. Thus, I would find it to be my responsibility to help ENSURE that the student was able to experience some levels of success (even if they were small at first) in that subject!
How do you evaluate a student's needs?
Engaging in an open and honest dialogue, then building some informal assessments based off of that open dialogue, and then proceeding from there.
How do you adapt your tutoring to the student's needs?
Tutoring is never one size fits all, and I think as tutors, we have a unique opportunity where we do get to work with just one student at a time. Thus, I would say my approach to tutoring will be at least somewhat different with every single different student. To know exactly how I would adapt my tutoring to the student's needs? You'd have to give me some time to get to know the student as an individual learner first!
What types of materials do you typically use during a tutoring session?
On a serious note... External reliable online resources on the topic and some sample problems to work through as a team, as well as some sample problems to have the student work through independently. On a lighter note... I generally use a lot of humor, encouragement, and fun as "materials" during a tutoring session. :)
How can you help a student become an independent learner?
I believe that the best way for me to help a student become an independent learner is by giving the student actual opportunities to BE independent and to provide himself or herself feedback with the expectation of that feedback being implemented right away!