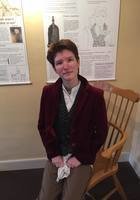 Serena
Certified Tutor
I graduated from Brown University, majoring in history. I first discovered my interest in tutoring when I was a teenager. I was interested in volunteering in my community and took part of a program to tutor kids within elementary schools. I'm comfortable with a wide range of subjects but I'm most passionate about History, English and Literature. These are topics I love discussing in general and I'm always happy to have a chance to help someone else find enjoyment in the subject. Trying to encourage of love of learning is an important part of my teaching philosophy and I try to do so by finding out what my students are interested in.

Outside tutoring; I enjoy reading and taking walks around the city. I also enjoy playing squash and practicing various languages.

Education & Certification
Undergraduate Degree: Brown University - Bachelor in Arts, History
Test Scores
SAT Composite (1600 scale): 1410
SAT Verbal: 800
Hobbies
Writing, reading, squash, drawing
What is your teaching philosophy?
I believe that the way I teach should be adapted for the individual student but with an emphasis on learning how to learn.
What might you do in a typical first session with a student?
I'd probably start out trying to gain a good understanding of their background, how they learn things, where they're struggling, and what their interests are.
How can you help a student become an independent learner?
By working with them on understanding the building blocks of a subject.
How would you help a student stay motivated?
Helping someone stay motivated depends on the person; trying to keep them interested and confident in their ability to learn.
If a student has difficulty learning a skill or concept, what would you do?
First, I'd try to understand what difficulty they're having in particular. I'd also break down the skill or concept into smaller parts and try to use similar subjects that they might have less difficulty with as useful comparisons.
How do you help students who are struggling with reading comprehension?
For reading comprehension, it's very important that the student starts with books they enjoy. That provides the motivation to learn the skills and the more you read, the more comprehension can increase in any case.
What strategies have you found to be most successful when you start to work with a student?
I've found the most successful strategy to be talking with them. Doing my best to understand their individual needs and adapting to them.