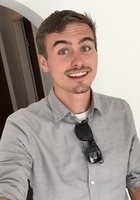 Alex
Certified Tutor
I am a graduated chemical engineer with many years of tutoring experience in the field of mathematics. I have worked as an in-person, on-call tutor in the University of Nevada Mathematics Center, as well as a private tutor for students ages 12 through 22.

I am a confident, easy going person who strives to make science and math stress free subjects! These fields often get a bad name, but with the right plan, anyone can master them.
I have worked with students of all ages and all skill levels, and I am committed to helping students gain understanding and confidence in all fields of math; not just pass a test.
Math is a life skill that can be very joyous, and this viewpoint is my ultimate goal when tutoring any subject. I have seen students go from D+ to A- in a variety of classes, with a renewed confidence and understanding of the material. I take personal pride in seeing once timid students develop into confident individuals who want to do well, not just skim by like they were before.
Test Scores
ACT Math: 33
ACT Reading: 34
ACT Science: 30
Hobbies
Python coding, engineering projects, building, teaching, travelling, learning
Tutoring Subjects
ACCUPLACER Arithmetic
ACCUPLACER College-Level Math
Chemical and Biomolecular Engineering
Technology and Coding