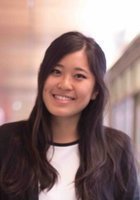 Jennifer
Certified Tutor
Learning has always been my passion. When I was in elementary school, I would write down the names of all my favorite books and compile it in a journal so I could remember for later.

Even now, 13 years later, I still do that. I hope to carry that same passion for learning through my tutoring classes and convey the interest I have in exploring new subjects to my students as well!

I am currently a student at the University of Pennsylvania where I am studying economics and statistics, and am interested in entering the tech sphere in the future. I have extensive experience as a tutor from middle and high school, where I tutored both peers and elementary school students in a variety of subjects including pre-algebra, pre-calculus, trigonometry, calculus, and the SAT.

Outside of academia, I love playing soccer and tennis, as well as exploring new restaurants and solving sudoku puzzles!
Test Scores
SAT Composite (1600 scale): 1540
SAT Math: 710
SAT Verbal: 800
SAT Writing: 750
SAT Mathematics Level 2: 770
SAT Subject Test in Literature: 700
SAT Subject Test in U.S. History: 710
Hobbies
Tennis, soccer, discovering new restaurants
Tutoring Subjects
College English
Conversational Mandarin
Financial Accounting
High School English
Mandarin Chinese 1
Other
Summer