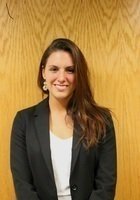 Savannah
Certified Tutor
I recently graduated from the University at Buffalo with a BS in Business Administration. My junior and senior year of college I worked as a tutor and primarily taught college level macroeconomics, microeconomics and statistics. I have worked with over 40 students and have learned that each student needs to work at their own pace and take a different approach to our sessions. I incorporate study skills and test taking stechniques into y tutoring sessions because it is important that students can use these skills in other subjects as well. I know that I have done my job when a student calls me at the end of semester excited to tell me how well their final exam went. If you or your child needs help with economics, math or general study skills to keep the material fresh this summer I would be glad to work with you.
Education & Certification
Undergraduate Degree: University at Buffalo - Bachelors, Business Administration and Management
Hobbies
Painting, Skiing, Cooking
Tutoring Subjects
Business
College Economics
High School Business
High School Economics
Homework Support
Macroeconomics
Other
Study Skills
Study Skills and Organization
Summer
What strategies have you found to be most successful when you start to work with a student?
I typically encourage the student to answer as many questions as possible on their own. A lot of students have the right idea and are surprised by how much they can do on their own with just a little bit of guidance.
What techniques would you use to be sure that a student understands the material?
I've found that using analogies is a great way to explain a new concept. It puts a difficult idea in terms that the student is familiar with and makes it easier to understand. Sometimes we also work with a whiteboard, it's fun to draw and it helps students remember the material.
How do you build a student's confidence in a subject?
If a student isn't confident with the material, we do lots of review problems. The more problems and samples a student sees, the more prepared they are to answer actual test questions. Students are always excited to see their score on review problems increase and often tell me that we do not need to continue review because they feel prepared for the test.
How do you evaluate a student's needs?
When trying to figure out each student's needs I ask them to do a practice problem and tell me what they think and how they would solve it. A lot of times watching a student work is enough to figure out what type of teaching technique is best for them. Some students like to draw out pictures or prefer to talk themselves through the problem. Later I use those same techniques when I go over the material.