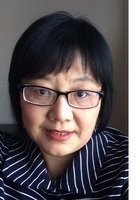 Sophie
Certified Tutor
I am a full time college professor teaching Mathematics and engineering courses.
Being passionate about teaching I am involved in working as a part time tutor.
I have taught math from algebra, geometry to calculus II and difference equations.
Teaching is not just passing the knowledge but inspiring students to learn and to be a problem solver.
I also taught my three sons in their Math courses from middle school to high school.
Michael graduated from Oxford University in UK, Fred and Felix are college students in Williams College and
Brown University, respectively.
Let me help you to reach your goals.
Education & Certification
Undergraduate Degree: Sichuan University - Bachelors, Education
Graduate Degree: National University of Singapore - PHD, Electrical engineering and Applied Mathematics
Hobbies
Reading, badminton
Tutoring Subjects
Conversational Mandarin
Electrical Engineering
Mandarin Chinese 3
Mandarin Chinese 4
Other
Summer
What is your teaching philosophy?
Teaching is not just passing the knowledge but Inspiring the student to learn.
What might you do in a typical first session with a student?
Have a short conversation with my students, and find out what they need. Quickly identify their strengths and talents in the course. I also use a working example to inspire them and build a faith to achieve the grade in the course that they dream about.
How can you help a student become an independent learner?
My heuristic teaching and interactive sessions can help my students become independent learners.
How would you help a student stay motivated?
Let him or her see they have made a great progress in their subject through my tutoring. Also, give them real world applications associated with what they are learning.
If a student has difficulty learning a skill or concept, what would you do?
If a student does have a difficulty learning a concept, I believe the most common reason is that he or she is lacking some fundamental knowledge to the concept. I will find out what that fundamental knowledge is and teach them step by step.
How do you help students who are struggling with reading comprehension?
I start with reading materials matching the student's reading level. Before starting the reading, I introduce the background of the article to the student.
What strategies have you found to be most successful when you start to work with a student?
I find the student's needs.
How would you help a student get excited/engaged with a subject that they are struggling in?
I would use a real world application, a working example, and an interactive tutoring session.
What techniques would you use to be sure that a student understands the material?
By asking the student a question, giving a small quiz, and an in-class practical problem.
How do you build a student's confidence in a subject?
Show them if they follow the instructions, they can do it. Let them see they made progress. I also show them the methods I teach are workable!
How do you evaluate a student's needs?
Through conversations and listening.
How do you adapt your tutoring to the student's needs?
I ask students to give me their materials before the class. Prepare the class. Maintain an organized class with limited distractions, and break down instruction into small tasks.
What types of materials do you typically use during a tutoring session?
I typically use the materials the student provides, my own working examples, and my own summary notes.