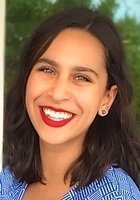 Ruby
Certified Tutor
I graduated from Wesleyan University as a double major in Film Studies and History. I first began tutoring as part of Wesleyan's Writing Workshop where I helped students on a range of assignments, from small academic papers to a PhD dissertation in ethnomusicology. Since graduation, I have traveled extensively in North Africa, the Middle East and Central America, and I have worked in law and education. I currently teach Film Production at a public arts high school and freelance as a filmmaker and writer. In my spare time, I play beach volleyball and enjoy cooking, gardening and reading.
Education & Certification
Undergraduate Degree: Wesleyan University - Bachelors, History/Film Studies
Hobbies
film, volleyball, gardening
Tutoring Subjects
College English
College World History
High School English
High School World History
What is your teaching philosophy?
Knowledge is more than just memorization of dates and facts. I believe that to truly learn and retain information, students need to have the freedom to ask questions and respectfully push back about some answers. Learning is about understanding why, not just what and when, and I firmly support discussions of the material in order to create a long-lasting knowledge of the subject.
What might you do in a typical first session with a student?
I believe it is important to set short-term and long-term goals at the outset. A short-term goal might be a particular assignment; a long-term goal might be an endemic issue that affects the academic or professional aspirations of the student. Setting these goals not only helps the student, it prepares me to better serve an individual's learning needs.
How can you help a student become an independent learner?
I believe that the best students are able to problem-solve and troubleshoot on the fly. These skills are crucial to becoming an independent learner and they are at the core of my teaching philosophy. I encourage my students to ask questions, to play the devil's advocate, and to push for more nuanced learning; if they are able to develop these skills with me, they are already on the path to becoming independent learners.
If a student has difficulty learning a skill or concept, what would you do?
Every student possesses his or her own individual strengths and weaknesses. Often, it is helpful to use those strengths to understand and improve upon the weaknesses. For example, a student that loves movies but hates history class will benefit from studying history as an interconnected story instead of a series of unrelated facts. As a tutor, my job is to help students discover their strengths and use them to achieve academic success in other areas.
How do you help students who are struggling with reading comprehension?
There are usually two issues that occur with reading comprehension: the inability to focus on the task, or the inability to comprehend the vocabulary. Often, these go hand in hand and there are several tricks to improve overall reading success. If a student has trouble focusing on the material, it is helpful to break it down sentence by sentence to dissect how each paragraph is organized and why. If a student is having vocabulary issues, I ask them to make an educated guess based on context clues and words that might sound similar (root words). My goal as a tutor is to teach problem-solving skills, so that the student can reason out the answer on a test or in the classroom.
How would you help a student stay motivated?
I believe that a student stays motivated by setting long-term and short-term goals. A short-term goal might be a paper on the French Revolution and the long-term goal might be the AP European History test. Accomplishing a student's short-term goals not only helps them prepare for the long-term goals, but it also has a sneaky way of helping the student enjoy the material! A student who realizes that they are genuinely interested in the subject matter will be more motivated to learn, and as a tutor I endeavor to make the material as engaging as possible.
What strategies have you found to be most successful when you start to work with a student?
I believe organization is key to understanding new material. I like to draw out a "map" to make sense of a lesson, and I think it is particularly helpful for visual learners. For example, in a writing session that map would have the thesis at the top (The Young Turks capitalized on a wave of nationalism to overthrow the Ottoman Empire and create the Turkish Republic). Underneath, several main ideas would come into play (engagement in WWI furthered nationalism, the Ottoman Empire was already crumbling, nationalism became more uniting than religion). Under the main ideas would be examples (The Battle of Gallipoli, Ataturk, Sultan Mehmed VI, the ban on Sufism). Without a guide, all of these ideas might seem overwhelming or difficult to connect, but with a map they become a neatly outlined essay. I find that practicing this skill during tutoring sessions helps students think clearly about the material they are learning.
What techniques would you use to be sure that a student understands the material?
I like to ask my students a lot of questions, framed as a discussion. In order to demonstrate understanding, they need to be able to tell me the material as a cohesive story, not just a series of memorized facts, and they need to be able to defend their position. Teaching via a back-and-forth discussion makes learning the material more fun, but it also answers the why and how, not just the who/what/when.
How do you build a student's confidence in a subject?
Confidence is catching. Once a student begins to truly understand the material, they will feel more comfortable explaining the material, and then they will feel more confident arguing a position or expanding upon a question. I encourage my students to ask questions and discuss any issues or disagreements they may have with the material.
How would you help a student get excited/engaged with a subject that they are struggling in?
I think students get frustrated with certain classes or subject matter because they can't see why it is important or how it fits into a bigger picture. I like to use references to pop culture, music or film to engage students with history and writing; for example, a lesson on the Meiji Restoration isn't complete without a brief sidebar about The Last Samurai. Cultural benchmarks help students retain information at the same time that they make the subject more exciting.
How do you evaluate a student's needs?
I rely on student and parent feedback to help set goals, and on discussions, writing activities and mini-quizzes during the tutoring session to determine if we are meeting those goals.
What types of materials do you typically use during a tutoring session?
I like to keep the workspace uncluttered so that it doesn't feel overwhelming to the student. I usually focus on material the student uses (textbooks, packets, etc.), but I always bring extra learning tools I feel might be of use. With writing students, I carry writing standards manuals, and with history students I bring any novels, historical books or pictures I have from my studies. I particularly feel that pictures (or films made about the era) can help evoke a sense of reality that is otherwise lacking in textbooks.
How do you adapt your tutoring to the student's needs?
Flexibility and patience are the two greatest strengths a teacher can possess. Students often don't retain information because they need to be taught differently -- a visual learner might want to draw out a "learning map," an auditory learner might want a pneumonic or jingle, and some students may need multiple ways to remember the information. If I see that a student is struggling, I modify our lessons until the student feels an improvement.