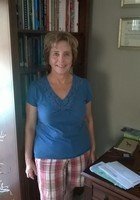 Anne
Certified Tutor
My belief is that every student can learn and achieve success. My speciality is teaching students with specific learning and reading disabilities. I enjoy assisting students with achieving their individualized goals and objectives in order to be successful with academics. My teaching experiences include: Elementary Education, Secondary Special Education, Reading, Middle Grades Language Arts and ESOL.

In my free time I enjoy spending time with family, bicycling, reading, swimming with US Masters and long walks.
Education & Certification
Undergraduate Degree: Lesley University - Bachelors, Education
Hobbies
Reading, swimming, and hiking
Tutoring Subjects
College English
Elementary School Math
Elementary School Reading
Handwriting
High School English
What is your teaching philosophy?
My teaching philosophy is that every student is capable of learning given the right instruction.
What might you do in a typical first session with a student?
During my first session with a student I spend time trying to get to know them. I also try to find out from the student what their goals and objectives are for their tutoring sessions.
How can you help a student become an independent learner?
A student can become an independent learner by achieving the skills required of them in a particular subject. A student also has to be part of the process and want to achieve success.
How would you help a student stay motivated?
Motivation comes from having the skills to be successful in a particular subject. Once a student is confident in their abilities, they will be intrinsically motivated.
If a student has difficulty learning a skill or concept, what would you do?
As a tutor, I would assess the areas the student is struggling with and provide the necessary resources and materials to help the student move forward.
How do you help students who are struggling with reading comprehension?
One of the best reading comprehension strategies is to make connections with what you are reading. Can you relate to any of the characters or to the story? If you make a connection to yourself, it is called a text-to-self connection; if you make a connection from the story you are reading to another story you have read, it is called a text-to-text connection; and, if you make a connection to something you have seen on the news or to an experience someone you know has had, it is called a text-to-world connection. Helping a struggling reader involves encouraging them to make as many connections as they can. The more connections they make, they better they will remember and comprehend the story.
What strategies have you found to be most successful when you start to work with a student?
1. Read and box the title. 2. Number each paragraph, as well as picture and title. 3. Read each question and underline key words. Then read the answer choices. 4. Read the passage carefully. 5. Reread each question and mark the correct choice, or place a question mark if unsure. 6. Go back in the passage and find proof for the answer.
How would you help a student get excited/engaged with a subject that they are struggling in?
A student will become engaged and an active participant in the learning process when they feel success with the subject. It may take some effort and time to achieve this goal.
What techniques would you use to be sure that a student understands the material?
In reading, many materials are available to assess what level the student has achieved in both comprehension and word knowledge.
How do you build a student's confidence in a subject?
By encouraging the student with the proper materials and guiding them through the process.
How do you evaluate a student's needs?
Speak with parents and former teachers, and review any documentation provided by the school. Also, provide informal assessments and observation.
How do you adapt your tutoring to the student's needs?
It is important to find out where the student is currently at, and to move forward from that point.
What types of materials do you typically use during a tutoring session?
I use a number of current books that have been successful in my classroom. I also check with parents if they have any materials that were recommended from their child's school.